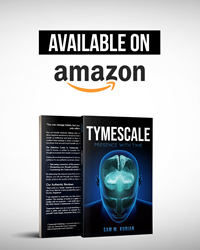 "When we use our five senses intentionally and for the right purposes, we live in the present moment; and when we are in the present moment, there is no worry or anxiety. Thus, we can silence our minds."
TORONTO (PRWEB) July 22, 2020
Sam M. Kurian, a Canadian certified coach practitioner, began his journey as an author with his first book "Tymescale: Presence with Time." To celebrate its recent launch, the author is offering a free eBook promotion on Amazon available worldwide from July 24th until the 28th. In this book, the author guides readers towards achieving their fullest potential by helping them to recognize and deconstruct destructive thought patterns.
In his new venture as an author, Sam delves deeper into the negative emotions that too often clouds human behaviour while recommending strategies to help readers live a more fulfilling life and silence undesirable thought processes. Above anything else, Sam stresses the importance of being present-minded.
He strongly believes that today most people live at the mercy of their ever-changing emotions due to a host of distractions that prevent them from distinguishing between needs and wants. According to Tymescale, one must first learn to silence the mind to be able to overcome these distractions.
Sam writes in his book: "When we use our five senses intentionally and for the right purposes, we live in the present moment; and when we are in the present moment, there is no worry or anxiety. Thus, we can silence our minds."
In Tymescale, Sam presents several useful tools and three models to help readers value time and better understand their patterns of illusion:
1. The PPF Model: Learn how to achieve a silent mind and start controlling your mind rather than being controlled by it.
2. The PRI Model: Use this tool to recognize PPF thought patterns and make better decisions while being present in the moment.
3. The RPS Model: Learn how to track and allocate time for your daily activities, which is customizable according to individual lifestyle, desires, and goals.
"Tymescale: Presence with Time" has already received praise from critics and experts across the globe. According to Linda Deigh, an Associate Dean from the United Kingdom, "Tymescale takes you on a soul-searching journey which quickly makes you mindful of what is within and without of oneself. Knowing this is a prerequisite for knowing yourself."
An Amazon review described the book as being: "A very interesting short read. We do spend a considerable amount of time on our past or anticipating our future. The author emphasizes on how being present can calm your anxiety, fears and lead to happiness and gratitude. Your mind is the most important tool and time management is the key. This book provides you with tools to help manage your mind and time better, leading to a successful and healthy life."
Sam M. Kurian is a multiple-degree-holding Canadian Certified Coach Practitioner. His first book recently launched on Amazon. Sam has been an advertising professional for over a decade and was the founder of a diamond start-up. He has dedicated many years of his life to better understand and further develop his Tymescale model.
https://www.amazon.ca/TYMESCALE-PRESENCE-Sam-M-Kurian/dp/1777207207