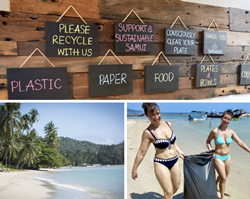 "The point of what we do is to consistently offer upgraded approaches to food, living, yoga and working out, all with eco-awareness. Many people are already living this in their daily lives but it should be possible even while on vacation." ~ Paul Dallaghan, CEO & Co-Founder
KOH SAMUI, Thailand (PRWEB) August 27, 2019
SUSTAINABLE PRACTICES
Samahita Retreat embodies the quality of a home more so than a commercial resort, emphasizing not just a personal healthy approach but one that cares for the planet with their sustainable practices and commitments:
No Plastic
With a ban on single-use plastics including bottles and bags, Samahita offers their guests alternatives such as paper straws, aluminum drinking bottles, water refill stations, paper bags and local banana leaves for food take out, fabric shopping bags, ceramic shower bottles and recycled wood coverings and furniture.
Recycling
Best efforts are made at the center to compost any leftover food, and to recycle any other forms of trash. Guests clear their own plates at the recycling center, and therefore participate in taking care of waste and going green.
Water Usage
Part of Samahita's water supply is sourced from their own eco-conscious wells on the property, while Samahita guests are encouraged to be highly conscious of their water usage, including shower time and the benefits of cooler showers. Since its opening, Samahita has never offered single-use plastic water bottles and provides complimentary Berkey water filter stations throughout the property.
Beach Cleans
As well as cleaning their beachfront on a daily basis Samahita organises weekly beach cleans with their guests, not only to improve our immediate environment but to bring people together and spread awareness of the problem.
Eco-Friendly Buildings
Samahita's eco-friendly buildings make use of cross-ventilation of air, natural lighting, rainwater harvesting as well as structured brick-work that minimizes both energy and sound loss. Rooms have no TVs therefore reduce EMF and come with a low-flush water-saving toilet and bathroom fixtures and bio-sustainable complimentary toiletries.
Local, Healthy Food
Samahita offers natural homemade food that is unprocessed, with local and organic ingredients as much as possible, and a well-balanced mix of ingredients. To keep it healthy in today's modern food environment there is also no sugar, no iodized salt, no MSG or related products in their food, and only the use of stable and healthy oils and fats.
Why Eco-Conscious?
Samahita Retreat wants their guests to feel good about their low impact, and about being part of a movement to take care of the environment, even while on vacation. Management also believe that the responsibility of the environmental crisis is on all businesses, large or small -- that we can all have an impact on positive change.
As a small business with a big heart Samahita commits to continuing to do its part by looking for ways to lead in eco-business, to care, and to educate.