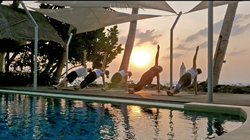 "For us it is not about profit focus, trying to satisfy everyone's different wishes, which only ends up with a diluted approach to the guest, but really about making a positive impact to those who are looking for tools to transform their health." ~ Paul Dallaghan, Samahita Retreat Co-Founder
KO SAMUI, Thailand (PRWEB) March 02, 2020
Samahita Retreat's 18 years of continuing commitment to well-being through breathwork that transforms lives is reinforced by its upgraded Mission Statement:
"Samahita means centered and is purposely set up to transform lives, to bring a balance of vitality and peace through our offerings and space: world-class expertise in the practice of yoga, breathwork, meditation, health and fitness, in a uniquely dedicated mind-body supportive environment."
This long-standing and upgraded mission statement reinforces Samahita's focus: to help and positively impact anyone with the desire to improve their lives and seeking to transform their health - mentally, physically and spiritually - by offering both the tools and the space with full support to make this happen.
The highest quality of practices, programs and teachings offered by Samahita support this mission, with integrity being the leading focus over profiting from the latest fads in an ever-growing wellness tourism market. Every program is designed with years of experience, research and study as input, drawing from ancient yogic practices while simultaneously influenced by the latest scientific research in health, fitness and wellness.
Co-founder and CEO of Samahita Retreat, Paul Dallaghan, while teaching yoga internationally, also researches its effects with an empirical scientific approach based in original textual study. He recently conducted a large clinical study as a PhD scholar at Emory University. As a scientist, educator and entrepreneur he drives the evolution of Samahita and its teachings, while still drawing from deep traditions of yoga and healthy living.
With growth every year in business and many of their guests returning annually, Samahita firmly believes in its approach of integrity and quality. Upgrades in programs incorporate modern approaches only if understood to truly be beneficial and effective. With their upgraded mission statement in place, senior management stands by their commitment to offer a dedicated space for the wellbeing and transformation for their guests to counteract the effects of a world of increased stress. Samahita means centered and offers the perfect retreat space to become more so.
About Samahita Retreat
Established in 2003, Samahita Retreat is an intimate yet vibrant beachfront retreat center hidden away from Thailand's busy tourist areas. Owned and directed by scientist, yogi and teacher, Paul Dallaghan, who was selected by Emory University's anthropology department, (Atlanta, GA, USA) for PhD work with a focus on the cultural and scientific aspects of yoga practice and knowledge, the retreat center is a friendly and inclusive spot for yoga and fitness holidays, yoga teacher training, detox, wellness programs, or simple relaxation - perfect for newbies looking for a way to get started in these methods, and known by those experienced as a place for expert guidance.
Samahita Retreat is located at 55/20-24 Moo 4 Namuang, Koh Samui, Surat Thani 84140, Thailand. To learn more, visit the website at http://www.samahitaretreat.com, or email info@samahitaretreat.com.