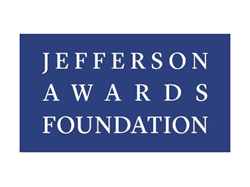 Sam Beard is a true visionary and his many big ideas have impacted thousands if not millions of lives.
New York, NY (PRWEB) November 12, 2015
The Jefferson Awards Foundation, America's most prestigious and long-standing organization dedicated to activating and celebrating public service, is proud to congratulate Sam Beard who was honored with a Lifetime Achievement Award from The PeaceJam Foundation on November 10th. As a global leader in developing young leaders and engaging adults in local and global communities, The PeaceJam Foundation is led by 13 Nobel Peace Prize Laureates with the mission to mentor youth to change the world. The co-founder and President of the Jefferson Awards Foundation was one of four PeaceJam Award honorees during the 7th Annual PeaceJam Awards Celebration that took place in Denver, Colorado.
Having dedicated his entire life to public service, Mr. Beard has created and chaired programs for seven U.S. Presidents that, collectively, have been responsible for the production of over 10 million jobs for the low-income population. Along with Jacqueline Kennedy Onassis and U.S. Senator Robert Taft, Jr., Mr. Beard founded the Jefferson Awards Foundation (JAF) in 1972 to create a gold seal for public service in America. After initiating a training program for student leaders nine years ago, JAF has trained over 20,000 student leaders and is active in over 400 U.S. high schools, resulting in more than 20 million hours of service to date.
Regarded as one of America's greatest social entrepreneurs, Mr. Beard has been praised by many. Peter Bourne, the official biographer for President Jimmy Carter, says, "Sam Beard is a true visionary and his many big ideas have impacted thousands if not millions of lives." A man with a vision and an eye for detail, Mr. Beard worked with Presidents Nixon and Ford from 1969 to 1976, pioneering to change lending practices to Black and Hispanic businesses and facilitating hundreds of millions of dollars in loans in the process. From 1978 to 1988, Mr. Beard worked with Presidents Carter and Reagan on job creation, involving every major bank in the U.S. With investments from $50 to $100 million per year, their direct impact lead to the creation of 2 million jobs and as a catalyst, has evolved to more than 10 million jobs created in the inner city.
Nobel Laureate Archbishop Desmond Tutu says, "Many people guide the present; the exceptional create the future. With his energy and enthusiasm, Sam Beard is exceptional."
In 2010, JAF lead by Beard created GlobeChangers, a program which trains students 25 and under to implement their big ideas to change the world. The program provides entrepreneur and social venture training materials and has trained 100 GlobeChangers to date, each impacting more than 35,000 people in the process. Over the next ten years, JAF plans to enlist and train 10,000 young GlobeChangers in America.
In the next 25 years of his life, Beard plans to do more for the world than he achieved in his first 75 by launching GIFT, a nonprofit to explore the untapped power of human minds and become global leaders in mindfulness. This will include identifying and training an additional 10,000 GlobeChangers around the world with the goal of impacting one billion people. Beard says, "One of my favorite quotes from Robert Kennedy is 'Each time a man stands for an ideal to improve the lot of others, he sends forth a tiny ripple of hope…'"
"In his life, Sam Beard's ripples have created a tidal wave of opportunity for people in poverty and struggling for basic rights," said Kerry Kennedy, President of the Robert Kennedy Human Rights Organization.
About the Jefferson Awards Foundation
The Jefferson Awards Foundation is the country's most prestigious and longest standing organization dedicated to powering and celebrating public service. JAF's programs accelerate and amplify service, training and activating Americans to take action, and to be leaders in schools, communities, workplaces, and the world. With celebration, JAF says thank you, shares the stories of America's best citizens, empowering them to do more and inspiring all to take action. To learn more about the Jefferson Awards Foundation, visit: JeffersonAwards.org or engage with our community on Instagram, Twitter and Facebook.
About PeaceJam
The PeaceJam Foundation is an international organization whose mission is to create young leaders committed to positive change in themselves, their communities and the world through the inspiration of Nobel Laureates who pass on their spirit, skills and wisdom. The PeaceJam Foundation was launched in February 1996 by co-founders Dawn Engle and Ivan Suvanjieff to provide the Nobel Peace Prize Laureates with a programmatic vehicle to use in working together to teach youth the art of peace. To date, 13 Nobel Peace Laureates, including the 14th Dalai Lama, Archbishop Desmond Tutu, Rigoberta Menchú Tum, President Oscar Arias, Adolfo Pérez Esquivel, Mairead Corrigan Maguire, Betty Williams, José Ramos-Horta, Aung San Suu Kyi, Sir Joseph Rotblat (Emeritus), Jody Williams, Shirin Ebadi and Leymah Gbowee serve as Members of the PeaceJam Foundation.
About GIFT
Founded in 2015 by Sam Beard, GIFT is a nonprofit that will explore the underutilized power of our minds and become a Global Leader in Mindfulness. A particular focus of GIFT will be developing youth leadership and seeking ways to empower at-risk youth and youth in poverty.