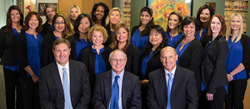 SAN DIEGO (PRWEB) November 19, 2018
Drs. Lawrence Addleson, R. Douglas Campbell and David Landau of the Art of Dentistry are encouraging anyone in need of a dental crown to discover same-day options at their practice. Each dentist uses precise and efficient CEREC technology to create beautiful, lifelike tooth crowns for a variety of purposes. The technology enables the dental providers to generate a single dental crown in about an hour.
Tooth crowns are often used in dentistry when the natural tooth has been compromised. Over time, teeth can become cracked, broken, discolored, or otherwise damaged. In these cases, an individualized dental crown covers the aesthetically unappealing portion of the tooth, protecting the majority of the tooth from further damage without harming the root.
The CEREC machine uses specialized software to craft tooth crowns that share the size and color of the patient's natural teeth. This allows patients to leave the office with an instant makeover for a tooth that has been cracked, chipped, or damaged. It also helps those with dental implants enjoy a completely lifelike cap to their implant post and abutment. In fact, the American College of Prosthodontics estimates that around 2.3 million dental crowns are created specifically for single dental implants every year in the United States.
In the past, patients who required tooth crowns typically waited for several days or longer to receive a custom-manufactured dental crown. By shortening the timeframe from diagnosis to repair, the professional team members at Art of Dentistry can make appointments easier and faster for both children and adults.
Those interested in an evaluation for a same-day dental crown, such as someone with permanent tooth discoloration or a broken tooth in La Mesa, CA, are invited to schedule a consultation. Appointments with any of the Art of Dentistry cosmetic dentists can be made at 619-291-4325.
About the Cosmetic Dentists
Art of Dentistry is a cosmetic dental practice offering patients customized dental care in San Diego, CA. Applying a philosophy that considers the art, science and biology of a smile, Drs. Lawrence Addleson, R. Douglas Campbell and David Landau provide personalized care in a comfortable, family atmosphere. With combined experience of over 85 years, the Art of Dentistry team uses state-of-the-art technology and leading techniques to craft each healthy smile. To learn more about Drs. Addleson, Campbell and Landau or the services they offer, visit their website, http://www.sandiegoartofdentistry.com. To experience the Art of Dentistry difference, call 619-291-4325.