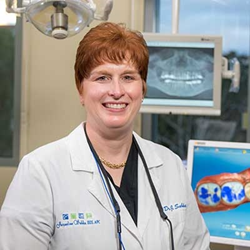 CEREC allows me to be a better dentist.
SIMI VALLEY, Calif. (PRWEB) September 25, 2018
Dentist Dr. Jacqueline Subka, offers CEREC technology to help patients in need of a dental crown in Simi Valley, CA and surrounding areas, avoid traditional wait times and multiple appointments. Her investment in CEREC and related advanced equipment and methodologies allow her to more efficiently and effectively give adults and children the leading-edge oral healthcare care they need.
In the past, getting a dental crown in Simi Valley, CA, could take an average of two visits. During the first visit, the patient would go through the process of receiving a messy impression, which people – especially those with high dental anxiety or a strong gag reflex – find uncomfortable and difficult. After about a week, patients would come back to have their new dental crown placed.
CEREC has streamlined the process, enabling a trained dentist like Dr. Subka to rapidly and non-invasively take digital measurements of the target tooth using a handheld intraoral camera. The measurements are then sent to the CEREC machine located in-office which generates a perfectly customized tooth crown made of non-metal materials in about an hour. After the natural looking dental crown has been created, Dr. Subka can place it, making the whole appointment period about two hours instead of two days. The result is a lifelike tooth crown completely personalized for the patient.
As Dr. Subka explains, CEREC has changed her ability to partner with patients who are on tight time schedules. "CEREC allows me to be a better dentist," she says. Plus, she notes that because CEREC is so speedy and successful, patients experience fewer complications because they aren't exposing uncrowned teeth to bacteria for longer than necessary.
Adults and children who require a same-day dental crown in Simi Valley, CA, Thousand Oaks, CA or surrounding areas are encouraged to make an appointment with Dr. Subka by calling 805-373-1919.
About the Dentist
Dr. Jacqueline Subka is general dentist offering personalized dental care for patients in Thousand Oaks, CA since 1999. Dr. Subka received her dental degree from the prestigious University of Southern California School of Dentistry in Los Angeles. Dr. Subka practices gentle dentistry and incorporates state-of-the-art techniques to provide leading, minimally invasive care. She and her team are committed to continuing education and strive to provide high-quality, personalized dental care to each patient. To learn more about Dr. Subka and the dental services she provides, visit her website at http://www.subkadds.com or call 805-373-1919.