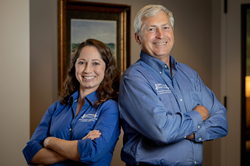 Being able to smile confidently and not have to worry about the temporary devices I had in my mouth falling out is priceless.
Chattanooga, TN (PRWEB) November 01, 2019
Patients with decayed or missing teeth can receive a new replacement tooth or a full arch of new teeth in just one day at Chattanooga Periodontics and Dental Implants. The practice offers tooth extractions, dental implant placement, and immediate teeth all in the same appointment at their Chattanooga, TN office. This modern teeth-in-a-day technique prevents patients from having to go another day without a complete, natural-looking smile.
"Being able to smile confidently and not have to worry about the temporary devices I had in my mouth falling out is priceless. With that device, it was still hard to eat because of the fear of it coming out while I eat," said Aaron, a dental implant patient of Chattanooga Periodontics and Dental Implants. "I feel a whole lot more comfortable with my dental implant now."
Dental implants are now the preferred tooth replacement solution. They can often last patients for decades and they restore virtually full function to the mouth. Composed of an implant post that is inserted into the jawbone, a dental crown or bridge that looks, feels, and functions like a natural tooth, and an abutment that connects the two, dental implants are often considered the gold standard in tooth replacement solutions today.
Dental implants, although the ideal solution, often require months of healing time before a restoration can be placed, causing many to continue to live with a gap in their smiles even after implant posts are placed. Now, with the teeth-in-a-day process, Drs. Charles Felts and Elizabeth Randall perform tooth extractions of damaged or decayed teeth, place dental implant posts, and load a temporary crown or bridge all in the same day. Due to advancements in periodontology and the specialized training of these skilled periodontists, patients, whether they're missing a single tooth or full mouth of teeth, never have to go another day with a complete smile again.
Although temporary, the acrylic provisional tooth replacement provided the same day as surgery looks and functions just like natural teeth. The provisional is secured in place while the jaw heals and a permanent restoration is created. Patients will then return to the practice to receive their permanent fixed tooth or arch after healing and fabrication is complete to ensure the most lasting and healthy smile.
Chattanooga Periodontics and Dental Implants is a family-owned periodontal practice that specializes in periodontics, dental implants, oral plastic surgery, and laser gum surgery. Board-certified periodontists, Dr. Felts and Dr. Randall help restore patients' smiles through cutting-edge technology and over 30 years of dental experience. Those interested in receiving a teeth-in-a-day dental implant tooth replacement treatment or in need of a tooth extraction are encouraged to call the practice at 423-756-2450 or schedule a consultation online at http://www.chattanoogaperio.com.
About the Periodontists
Chattanooga Periodontics and Dental Implants offers specialty dental care for patients in Chattanooga, TN. Dr. Charles Felts III has been practicing as a periodontist for over 30 years. A published specialist and frequent lecturer, Dr. Felts has also served as the President of numerous organizations including the Southern Academy of Periodontology and the Tennessee Society of Periodontists. Dr. Elizabeth "Beth" Felts Randall earned her Doctor of Dental Medicine degree with high distinction from the University of Kentucky and attended a three-year Periodontology residency program at the University of Alabama. Both doctors are Diplomates of the American Board of Periodontology who enjoy forming lasting relationships with patients in the Chattanooga area. Chattanooga Periodontics and Dental Implants conveniently offers LANAP® laser gum treatment, TeethXpress® full arch dental implants, bone grafting, and oral plastic surgery. To learn more about Drs. Felts and Randall or the services they offer, visit http://www.chattanoogaperio.com or call 423-756-2450 to schedule a consultation.