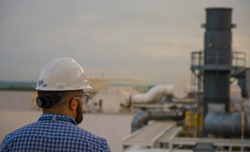 "Our partnership with Nepris allows us to speak directly to the future workforce, both in Austin and throughout the US, to ensure students have a better understanding of their future career opportunities"
AUSTIN, Texas (PRWEB) November 12, 2020
Samsung Austin Semiconductor, one of the world's most advanced semiconductor fabrication facilities, has expanded their community outreach efforts. Now, middle and high school students across the US will have access to skilled trades careers, through a series of educational discussions with Samsung trades workers. Samsung Careers in the Trades Series will run from Monday, November 16 - Friday, November 20, and will be hosted on Nepris, a cloud-based platform connecting K-16 students with industry professionals through live, virtual discussions.
"We are excited to display the career opportunities for the skilled trades that are available at Samsung Austin Semiconductor," said Samsung Austin Semiconductor's head of Technology Training, Melanie Flowers. "There are a variety of high-wage, high-demand careers opportunities in the tech industry, even many that do not require a college degree. Our partnership with Nepris allows us to speak directly to the future workforce, both in Austin and throughout the US, to ensure students have a better understanding of their future career opportunities."
The Samsung Careers in the Trades Series will feature Samsung skilled trades workers in industrial waste management, HVAC, electrical, and more. Students will hear directly from these subject matter experts on their unique job paths, required training and certification, and the daily tasks involved in their profession.
Over 100K educators across the country use Nepris to provide career exposure for their K-16 students, connecting them with Nepris' network of more than 40K industry professionals from around the world via live Industry Chats, a vast library of career videos and work-based virtual learning capabilities. Samsung Austin Semiconductor and Nepris welcome educators nationwide to sign up their classrooms for the Samsung Careers in the Trades Series for free: https://bit.ly/32zRIpL
About Nepris
Austin-based Nepris provides a cloud-based platform connecting industry professionals with K-16 classrooms so that students see the relevance of what they are learning in school. Students are exposed to diverse role models and career paths in STEM, the Arts, retail, manufacturing, and countless other careers. Nepris makes it easy for teachers to leverage industry connections while offering a scalable platform for companies and regional intermediaries to easily and effectively engage the current workforce with the future workforce, virtually. Over a half-million students have participated in a Nepris virtual session or have viewed one of the over 10,000 hours of videos in its library. See Nepris in action at Nepris.com. @NeprisApp