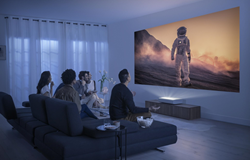 "The Premiere re-imagines the home cinema experience with an all-new, compact design, 4K picture quality and big sound for tight spaces that can be used for any at-home activity and living room arrangements."
POMPTON LAKES, N.J. (PRWEB) October 01, 2020
ProjectorScreen.com is proud to feature the brand new Samsung Premiere LSP9T Projector. It is the first commercially available triple-laser 4k, UST projector available for sale in the USA.
The Samsung Premiere LSP9T is the first HDR10+ certified projector anywhere in the world thanks to triple laser technology and offers unparalleled contrast in both light and dark scenes thanks to the UST's peak brightness of up to 2,800 ANSI lumens.
The Premiere also offers a first of it's kind feature called "Filmmaker Mode." This revolutionary setting allows viewers to watch movies as the director intended.
Samsung has also made available a single-laser projector, the LSP7T. While the LSP9T is technologically superior, the LSP7T still rivals any other UST projector in its price point and class.
Since its announcement early in September, buzz around the Premiere has been growing exponentially about Samsung's first foray into the rapidly expanding laser TV market.
The 4K laser TV projector is the newest addition to Samsung's award-winning electronic entertainment product portfolio. This UST projector offers an incredible cinematic experience right in your own home.
The Samsung ultra short throws are now available from ProjectorScreen.com in the 130 inch Samsung LSP9T and the 120 inch Samsung LSP7T models.
"Over the past few months, we have seen how consumers are spending more time at home and how the role of everyday life continues to change. TV has become the center of entertainment, a fitness partner, a co-worker and a source for news," said Jongsuk Chu, Executive Vice President of Visual Display Business at Samsung Electronics. "The Premiere re-imagines the home cinema experience with an all-new, compact design, 4K picture quality and big sound for tight spaces that can be used for any at-home activity and living room arrangements."
This is the first time a Samsung projector is being sold on ProjectorScreen.com.
"We are extremely excited to be including Samsung in our product catalog," says Brian Gluck, president of ProjectorScreen.com "As one of the premium manufactures of consumer electronics and displays, they are renowned for their quality."
As an ultra short throw projector, The Premiere LSP9T can be placed directly in front of a projection screen, as close as 4.4" away to make a 100" diagonal image. Thanks to it's all in one space saving design, this laser tv fits right into the aesthetic of a variety of living room arrangements. It is designed for easy setup and features stylish fabric finishes around its built-in speakers, effortlessly complementing any environment.
Powerful built-in woofers and Acoustic Beam surround sound, reduce the need for additional sound equipment in tighter spaces. The Premiere UST offers one of the best cinematic audio experiences of any projector with built in audio.
"We've had the chance to preview these new UST projectors and can confirm that they are as premium as they come for each respective price point," said Brian Gluck.
These masterfully crafted laser TVs are on sale at ProjectorScreen.com.
Samsung first launched its Lifestyle product portfolio with The Serif in 2016 and has tirelessly redefined the role of the television with a variety of lifestyle display options that includes The Frame, The Sero and The Terrace.
By focusing on elements that speak to the consumer's passion for art, interior design and entertainment Samsung's Lifestyle product line-up continues to evolve as a central meeting point for a wide array of lifestyles and interests.
About ProjectorScreen.com
ProjectorScreen.com is a top online retailer selling premium projector screens, projectors and home theater equipment. Their projection experts offer outstanding sales and customer support to help clients find exactly what they need from their tremendous selection of over 20,000 home theater products. All at the best prices and free shipping. ProjectorScreen.com is part of the Next Projection family along with sister site 4kProjectors.com. For more information visit https://www.projectorscreen.com.