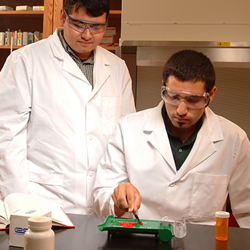 The need for workers in the pharmacy industry will be greater than ever.
SAN ANTONIO, Texas (PRWEB) August 03, 2018
By 2050, the number of people over the age of 65 is expected to reach 84 million or about 20 percent of the population. This means an increase in health concerns and chronic conditions like heart disease, neurodegenerative diseases, and cancer that can be costly to manage.
The need for workers in the pharmacy industry will be greater than ever. Northwest Vista College has the only two-year pharmacy program in the city that offers both an associate degree and a certificate.
NVC's program also has these significant attributes:

On the top 10 list for Pharmacy Technical Schools in Texas by the American Society of Health System Pharmacists
NVC's Pharmacy Technician Certification Exam pass rates have been consistently higher than the national pass rate average. For this year, students have a passing rate of 80 percent, which is 20 percent higher than the national average.
Is a part of the College Credit for Heroes initiative, which ensures active duty, former and retired military personnel receive academic credit from their military service.
The Associate of Applied Science in Pharmacy Technology program provides students with the technical knowledge and practical skills required of a technician in either community or hospital pharmacy settings. This program offers a comprehensive curriculum as well as hands-on training in prescription filling, inventory packaging, patient profiling, sterile products preparation, and pharmacy calculations.
To learn more about Northwest Vista's pharmacy program, visit http://alamo.edu/nvc/academics/departments/pharmacy-technology/