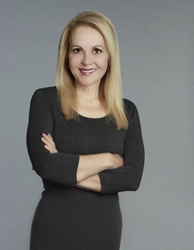 I'm honored to be recognized as an IDEAL IMPLANT Premier surgeon because women need, and deserve, the option of the structured implant like the IDEAL IMPLANT as they make their choices.
SAN ANTONIO, Texas (PRWEB) October 30, 2018
When patients seeking breast augmentation walk into Dr. Constance Barone's office, she says they play "Show and Tell."
"I show them every type of implant available. I show them saline. I show them silicone. And I show them the IDEAL IMPLANT®. They get to feel and see each of their options," said Dr. Barone, a board certified plastic surgeon with a busy practice in San Antonio, Texas. "And almost exclusively these days, they pick the IDEAL IMPLANT."
In fact, Dr. Barone was so impressed with the IDEAL IMPLANT that she chose to invest in the company. Her dedication to providing patients with all of their choices and a complete education on the performance data is one of the reasons she's been named as an IDEAL IMPLANT Premier Surgeon, a recognition provided to a very select group of surgeons based on their extensive experience with IDEAL IMPLANT structured breast implant procedures.
"I'm honored to be recognized as an IDEAL IMPLANT Premier surgeon because women need, and deserve, the option of the structured implant like the IDEAL IMPLANT as they make their choices," Dr. Barone said. "Women know what they want, should be allowed to make a fully informed decision, and are entitled to have all of their options available to them."
She believes it's a surgeon's duty to explain the benefits and risks of all types of breast implants to help patients make an informed decision. This starts with a thorough review of the research and performance data. While both structured and silicone gel implants offer a natural look and feel, complication rates can vary widely. For example, capsular contracture risk for silicone gel ranges from 9.8-16.2% at 6-7 years compared to 6.3% with IDEAL IMPLANT, and implant rupture risk with silicone gel options ranges between 3.4-7.4% at 6-7 years compared to 1.8% with the structured IDEAL IMPLANT.
The IDEAL IMPLANT structured breast implant is designed with a series of shells nested together, each of which are filled with saline. This unique design provides a more natural look and feel than saline implants that more closely matches the natural look and feel touted by silicone gel implants. "I tell my patients the two chambers in the IDEAL IMPLANT make it feel more natural than old saline implants. And they don't have the worries that come with silicone," Dr. Barone said.
In addition to the risk of rupture, silicone gel implants in particular carry the risk of 'silent rupture,' which means the patient will not know if their implant has a leak. A silicone gel implant rupture can only be detected by MRI, meaning a woman may not know for months or years if her implant has ruptured. When silicone gel gets into the surrounding tissues, it requires a more complicated surgical procedure to remove. The risk of silent rupture is why Dr. Barone is in agreement with many plastic surgeons that silicone gel implants should be removed and replaced every ten years.
By contrast, when a structured or saline implant ruptures, the saline (a sterile salt-water solution) is safely absorbed by the body, so there is no concern about leaving the implant in place until an issue arises. Dr. Barone feels this benefits are a clear advantage to patients with a wide range of needs, including transgender patients. "It's the technology we have been waiting for. It is what I'd choose for myself or family members, and what most of my patients are choosing," Dr. Barone reports.
About Dr. Constance Barone
Dr. Barone is board-certified by the American Board of Plastic Surgery. She is also a fellow of the American College of Surgeons and the American Academy of Cosmetic Surgery. In addition to holding memberships in some of the most prestigious medical associations in the world, Dr. Barone has been voted one of the Best Doctors in America, and has been listed as one of the nation's top physicians in numerous publications.
Dr. Barone has been featured on national television shows and prominent magazines such as Discovery Health, Good Morning America, San Antonio Living, San Antonio Magazine, and Seventeen Magazine. She has dedicated her career to helping patients achieve their aesthetic goals. For more information, visit https://www.baroneplasticsurgery.com/.
About IDEAL IMPLANT
Ideal Implant Incorporated is a privately held company that was founded in 2006 by Robert S. Hamas, MD, the plastic surgeon who invented the IDEAL IMPLANT. After years of dealing with ruptured silicone gel implants and listening to patient concerns, Dr. Hamas realized that women wanted a new type of breast implant—one that would combine the natural feel of a silicone gel implant with only saline inside for safety and peace of mind.
The unique design of the IDEAL IMPLANT provides a natural feel and youthful look—without using silicone gel. The IDEAL IMPLANT incorporates a series of shells nested together and two separate chambers that hold saline. Though made with standard implant materials, the IDEAL IMPLANT uses an advanced internal structure to control movement of the saline and support the implant edges to reduce collapse and wrinkling. IDEAL IMPLANT has undergone ten years of development, testing and refinement—including contributions of clinical expertise from several board-certified plastic surgeons. IDEAL IMPLANTS were approved by both the U.S. Food and Drug Administration and Health Canada in 2014.
For more information, visit https://idealimplant.com/.