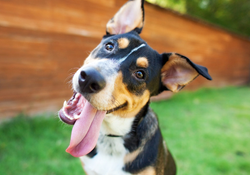 It's been a great privilege to work with the San Diego Animal Support Foundation on these adoption gatherings that promote unconditional love and compassion for animals
LA MESA, Calif. (PRWEB) March 03, 2020
Grossmont Center is proud to partner with the San Diego Animal Support Foundation for another year of exciting pet adoptions that match animals with safe, nurturing homes. The 2020 slate launched February 22 with the extremely popular Cupids & Canines, and there are plenty of other fun events coming up, all of which are free and open to the public.
Grossmont Center's incredible mega-adoptions give families a wonderful opportunity to find their favorite pet. The San Diego Animal Support Foundation works with many reputable and trusted shelters and rescue groups to bring hundreds of animals to the Center on these special occasions—of course, dogs and cats are well represented, but there are turtles, tortoises, and birds who need homes as well. Grossmont Center provides a relaxed, stress-free environment for people and potential pets to meet, as well as booth space where the participating organizations can share pet-owning tips and other relevant information with attendees. Join us for:
Dog Days of Summer (Saturday, June 20, 2020)
Howl O Ween Hounds (Saturday, October 24, 2020)
Santa Paws Pet Adoption (Saturday, December 12, 2020)
All three take place from 11 a.m. to 3 p.m. at Grossmont Center. Parking and admission are always free, and people can visit the Center's many shops and restaurants before and after the family-friendly fun.
"It's been a great privilege to work with the San Diego Animal Support Foundation on these adoption gatherings that promote unconditional love and compassion for animals," says Trevor Moore, the Center's Director of Events and Marketing. "We fully support this nonprofit in its mission to improve animal welfare by encouraging pet adoption and educating the public about proper animal care. There is a wonderful community spirit at these mega-adoptions, and we enjoy being an integral part of that."
For more information, contact the San Diego Animal Support Foundation at Info@SDShelters.org, sdshelters.org, or (619) 847-8755.
To learn more about Grossmont Center, visit http://www.grossmontcenter.com.
About Grossmont Center
Grossmont Center is an outdoor shopping center in San Diego located at 5500 Grossmont Center Drive, La Mesa, CA 91942. Grossmont Center is more than just a mall. It's an experience. With its outdoor setting, local, and national retail partners, restaurants, and year-round community events, Grossmont Center is where friendships are made, family bonds are strengthened, and memories are created. The Center is home to more than 100 unique stores, half of which are locally owned, 20 restaurants, and a movie theater. Grossmont Center occupies 1 million square feet and is sure to have something in store for everyone! For more information, including hours of operation, visit http://www.grossmontcenter.com.