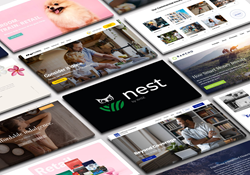 "We put the business owner in control of their growth, both in speed and direction, with a superior set of tools and solutions, and one dedicated team to help their business take flight."
SAN DIEGO (PRWEB) October 12, 2020
WISE Digital Partners (WISE), has been steadfast in its mission of helping small and mid-size businesses grow despite the current economy. Since its inception in 2016, and from their home base in San Diego, CA, WISE has been helping make sense of the digital landscape for businesses nationwide. The agency helps business owners understand, leverage, and grow their internet presence with confidence. This couldn't be more timely given the situation brought on by the pandemic, where so much of our lives and businesses are moving virtual.
"Business is hard enough," says WISE Digital Partners Founder Patrick Dillon. "Websites, the internet, SEO, social media, Google, and more can be overwhelming, complicated and too much to add to a business owner's already overburdened to do list. That's where we come in and help. We partner with our clients to take on the task of developing and managing their entire digital footprint. Our clients gain a team of WISE experts, all with unique but complimentary digital disciplines. In the process, we teach them how to leverage the internet in order to help their business grow predictably and profitably."
In just the first half of 2020, WISE Digital Partners has received considerable recognition from local, regional, national and global business publications. Awards and affiliations include: 2020 Forbes Agency Council Member; CIO Review Magazine/10 Most Promising Google Marketing Consulting & Service Companies; Expertise.com/BEST SEO Experts in San Diego 2020, Corporate Vision Magazine/Most Innovative SEO Marketing Solutions Provider; and Acquisition International's Award for Best Legal Digital Marketing Agency - Southern California.
WISE Digital's newest solution, perfectly timed for 2020, is nest by WISE. This affordable and comprehensive solution for a website plus marketing services and several digital tools helps guide a business towards online growth. Nest takes the guesswork out of the equation and eliminates the need to patch together multiple vendors and services to get what you need done online. "We put the business owner in control of their growth, both in speed and direction, with a superior set of tools and solutions, and one dedicated team to help their business take flight." As Dillon says, it is "a nest that's strong enough for your business needs today, and powerful enough for whatever the future brings, all for less than the cost of an intern." It's nice to know that in these times there is a local business invested in supporting and helping other local businesses grow.
For more information about WISE Digital Partners, visit their website, connect on Facebook @WISEDigitalPartners, or on LinkedIn @wise-digital-partners.
About WISE Digital Partners
WISE Digital is a California-based digital marketing agency that exists to help great companies flourish. "Partners" is their name because they believe the client + agency relationship goes deep. As your business grows, WISE grows, and they hope that relationship lasts forever. The team has an unwavering commitment to helping business owners understand and accelerate their growth. They do this through practical, profitable and measurable strategies. Some of these strategies and services include: Digital Strategy, Brand Identity, Websites, SEO, Paid Search Ads, Paid Social Ads, Listings Management, Reputation Management, Email Marketing, Reporting and Analytics. WISE's newest offering, nest, combines an affordable custom website with a full suite of digital marketing services and platforms. WISE is a one-stop shop and partner for businesses looking to grow their brand, traffic, sales, and client acquisition on the internet.