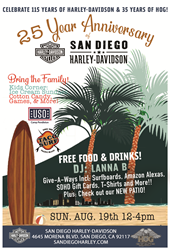 San Diego, CA (PRWEB) August 12, 2018
San Diego Harley-Davidson is proud to announce their 25 Year Anniversary.
It was 25 years ago that New York Myke opened up shop at the original location at 4109 Sports Arena Blvd. Fast forward from 1993 to 2018 and San Diego Harley-Davidson has become the largest new bike dealership in the nation with a stunning and modern new location at 4645 Morena Blvd. (San Diego, CA 92117)
To commemorate the 25 years, there will be a huge celebration on Sunday, August 19th from Noon-4pm open to the general public. No charge for admission.
This event will coincide with Harley-Davidson corporate celebrating 115 years and the Harley Owners Group celebrating 35 years.
The day will be celebrated with a 1950's beach themed party open to the public!
Music will be playing from local artist and DJ, Lanna B, on a lifeguard tower replicated specifically for this event. One of Pacific Beach's favorite taco shops, Taco Surf, will be hosting a taco bar for all guests. Fashion models in 1950's beach bikinis will be serving Wisconsin themed appetizers, cokes and watermelon margaritas while welcoming guests and taking pictures.
There will be a special collection of vintage surf boards on display provided by local surfer, Sam McLarty.
There will also be a large display of Harley-Davidson bikes along with historic and new pictures of Harley-Davidson throughout the 115 years, enlarged and on display.
The event is sponsored by the USO of Camp Pendleton and representatives will be passing out giveaways and ice cream. This is a family friendly event and there will be activities for kids including facepainting and cotton candy. There will be 25 raffle items including surfboards, Amazon gift cards and San Diego Harley-Davidson custom items.
The champagne toast at 3:30pm will wrap up the event and New York Myke will give his speech thanking the community for their loyal support throughout the years.
San Diego Harley-Davidson Dealership Details:
San Diego Harley-Davidson® has grown to become one of the best-known dealerships in the country by having the very best staff and making customer service their number one priority. With a 5 star Yelp rating, anyone can read the hundreds of positive business reviews.
San Diego Harley-Davidson is backed by strong leadership from New York Myke, a biker and Vietnam Vet. The majority of staff at San Diego Harley-Davidson® are proud veterans. The company partners with military oriented charities like San Diego U.S.O., Special Operations Warrior Foundation and the Wounded Warrior Project annually.
They offer a special Military Sales Program, an exclusive San Diego Harley-Davidson® initiative designed to give back to all active duty and retired personnel from all branches of the military.
The dealership is focused on representing the Harley-Davidson® brand and lifestyle and will continue to do so for another 25 years!