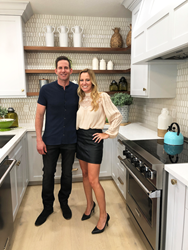 LOS ANGELES (PRWEB) November 22, 2019
On Thursday, November 21, 2019, San Diego interior designer Darcy Kempton of Simply Stunning Spaces appeared as the guest designer on one of HGTV's highest-rated shows, "Flip or Flop."
When Tarek El Moussa found the perfect house to buy in Newport Beach but his ex-wife interior designer Christina Anstead wasn't able to design it due to her maternity leave, he brought in interior designer Darcy Kempton to get the job done. Darcy worked alongside the TV personality and real-estate guru to design the home featured on the season 8 episode entitled "Million-dollar Cookie Cutter."
"The style of the home I designed for the episode is Contemporary Coastal Chic, undoubtedly inspired by the natural landscape of Southern California. It incorporates so many of my favorite design elements, including natural stone textures, rich wood tones, crisp and clean lines, geometric shapes, and subtle pops of color. I can't wait for you all to see it!"
Darcy has been designing homes in the San Diego for over 15 years and is the owner of local showroom and design firm Simply Stunning Spaces (http://www.simplystunningspaces.com). Darcy is also gearing up for the release of "Instant Dream Home," an online course based on her book of the same name.
The "Instant Dream Home" course will teach students to design and decorate their own homes with simple, easy-to-follow instructions that will help them address their personal projects from start to finish. It will give members the tools, resources, advice, and confidence they need to bring their design ideas to life – and as a result, dramatically improve the quality of their lives.
Darcy's "Flip or Flop" episode can be seen on HGTV, HGTV.com and Hulu.
For more information on Darcy or to book a consultation with her, please visit: https://www.simplystunningspaces.com.
To contact Darcy directly:
phone: 619.296.0846
email: darcy@simplystunningspaces.com
ABOUT DARCY KEMPTON
Darcy Kempton is the founder of the interior design firm, Simply Stunning Spaces. With a background education from Virginia Tech's School of Architecture, Darcy has been designing homes for over fifteen years in Southern California. In 2010, Darcy's creativity and entrepreneurial spirit led her to found her own company based at her San Diego Showroom located at 7050 Miramar Road. Darcy's design aesthetic is best described as 'clean and contemporary with highly personalized finishing touches designed to best express the personalities of her clients.' Darcy's design process is a collaborative effort between the client, herself, and a talented team of contractors, craftsmen and design assistants – all dedicated to creating a simply stunning end result for each client.