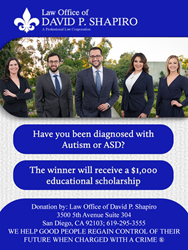 SAN DIEGO (PRWEB) February 25, 2021
The Law Office of David P. Shapiro, a San Diego criminal defense firm, is pleased to announce a new scholarship is being offered by the firm to support the continuing education of persons who have been diagnosed with Autism Spectrum Disorder. The scholarship is in the amount of $1,000 and will be paid in the form of tuition reimbursement to the college or vocational school selected by the winning applicant.
Those affected by autism face numerous challenges. Those challenges may include depression, ADHD, and chronic sleep problems, among others. These issues continue to affect the lives of many with ASD into young adulthood. This is accompanied by related issues, among them failure to pursue educational opportunities and unemployment.
This is the fourth time in the last five years the firm has offered an educational scholarship for those affected by ASD, keeping with its strong commitment to assist individuals in their pursuit of their educational goals. The entire "LOODPS" team believes that by offering this opportunity, they will provide the impetus for all the applicants to pursue educational opportunities at a university, college, junior college, vocational school, or trade school.
The application process is open to anyone diagnosed with ASD (DSM-V), whether or not the individual is currently enrolled in or attending school at the time the application is submitted.
Those who are interested in applying or learning more about the scholarship or the firm's scholarship programs should visit the firm's website, which contains the application form, privacy policy, and additional information and requirements for those who may wish to apply. The application deadline is April 1, 2022, and the winner will be selected on or before April 15, 2022.
Inquiries concerning the application, or any related matters should be submitted via email to:
Law Office of David P. Shapiro
3500 5th Ave Suite 304
San Diego, CA 92103
619-295-3555
michael@davidpshapirolaw.com