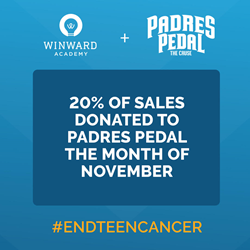 "I wasn't even afraid of dying. I was afraid of not doing well on the ACT and not being able to go to college."-Bradley C., teen cancer survivor
SAN DIEGO (PRWEB) November 12, 2018
As part of the Padres Pedal the Cause on November 17, 2018, Winward Academy has formed a team to raise funds for cancer research and to honor Bradley Couch, a San Diego native who was diagnosed with Non-Hodgkin Lymphoma in his junior year of high school. They ride together with a shared mission: to raise awareness for the unique struggles for teens with cancer.
A cancer diagnosis in high school presents an additional layer of challenges for adolescents; specifically, the impact on their education can be paramount. In addition to the isolation and loneliness of being confined to a hospital bed or missing school during chemotherapy treatments, teens who believe in their recovery are concerned about their ability to go to college. Couch, a La Jolla Country Day graduate in the class of 2016, reflects on his diagnosis and shares, "I wasn't even afraid of dying. I was afraid of not doing well on the ACT and not being able to go to college."
The thought that teens battling acute or terminal illness would face yet another burden with a fear of not doing well on standardized tests for college admission moved Dr. Jennifer Winward, the founder and lead instructor of Winward Academy.
Dr. Winward has pledged two ways to support teens like Bradley battling illness during high school. First, Winward Academy has partnered with Rady Children's to support all teens receiving treatment for cancer or blood disorders, two conditions that keep students out of school. Second, Winward Academy has pledged 20% of its November sales to the Padres Pedal the Cause fundraiser.
"I couldn't be more proud to ride with Bradley or to support this cause," shared Dr. Winward. "Rady Children's saved his life and gave him a shot at being the successful, conscientious University of Arizona Wildcat that he is today. Winward Academy is wholeheartedly committed to supporting teens who battle cancer and to helping fund essential research that saves lives every day."
100% of the proceeds raised by Padres Pedal the Cause stay in San Diego to fund collaborative research projects conducted by four beneficiaries: Moores Cancer Center at UC San Diego Health, Sanford Burnham Prebys Medical Discovery Institute, the Salk Institute for Biological Studies, and Rady Children's Hospital-San Diego.
###
 
About Winward Academy.
Winward Academy – a nationally recognized tutoring platform providing personalized ACT prep, SAT prep, math courses, and college application help – combines an interactive teaching approach with on-demand video lessons to create tailored learning programs for students and for life-long learners. Winward Academy founder Dr. Jennifer Winward brings significant experience in learning as a Ph.D., Neuroscience and Developmental Neuropsychology, University of California, San Diego; distinguished teaching professor at University of California, San Diego; and renowned 18-year veteran of high school tutoring. For more information on Winward Academy, see winwardacademy.com or follow the company on Facebook, Instagram, or Twitter. To sign up for educational packages and support Padres Pedal, go to learn.winwardacademy.com/signup/padres-pedal.