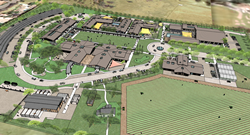 Dr. Gordon Saxe, Director Center for Integrative Nutrition, University of California, San Diego, "TERI has created a model for extraordinary ( . . . ). The inclusion of high-quality nutrition is readily apparent throughout their program ( . . . )."
SAN MARCOS, Calif. (PRWEB) January 29, 2019
TERI Inc., a San Diego-based nonprofit serving adults and children with developmental and intellectual disabilities and their families, broke ground on its 20-acre Campus of Life January 19, 2019 in San Marcos, California. The master-planned community, offering hundreds of programs, will bridge the gap between individuals with special needs and the world by empowering its students through the highest standard of care, education and innovative resources.
The 111,000 sq. ft. facility will provide a wide range of services and learning opportunities including culinary training with kitchen and dining facilities for up to 600; organic agriculture with the capacity to process and distribute produce; theaters, art, music and production studios; a fitness and wellness center with aquatic center and outdoor recreation; two non-public schools; a life planning center; family support services and more.
With both compassion and these unique programs and resources for those with special needs, TERI offers an approach to care, therapy, nutrition, education and life opportunities that promises to serve as a beacon of excellence and inspiration.
"We're incredibly excited to see our remarkable North San Diego County facility on its way to becoming a reality," said Cheryl Kilmer, founder of TERI Inc. "The Campus together with our community of passionate professionals, will enable us to stay on the forefront of care while fostering our best practices throughout the world."
Dr. Gordon Saxe, Director Center for Integrative Nutrition, University of California, San Diego, "TERI has created a model for extraordinary care that includes everything from specialized education and the creative arts to spirituality and fitness. The inclusion of high-quality nutrition is readily apparent throughout their program and clearly sets TERI apart from other organizations dedicated to helping those with special needs."
Looked to by human services groups, research, medical and educational experts, TERI is committed to sharing its model while continuing to enable, support and ensure every individual, regardless of the barriers they face, have the opportunity to live a life of fulfillment and meaning.
"This is a huge undertaking and one my team has wholeheartedly embraced. When the TERI Campus of Life results in a model of exceptional care and human empowerment accepted and used throughout the world, we will have truly changed lives in a profound way," said Kilmer.
To contribute to TERI Campus of life, visit https://www.teriinc.org/donate-campus-of-life/. For more information about TERI Campus of Life or TERI Inc's other programs, visit http://www.teriinc.org.
About TERI Inc.
TERI Inc., a nonprofit organization founded in 1980, is changing the way the world sees and empowers people with special needs. TERI specializes in setting quality standards for individuals of all ages with a wide range of developmental and learning disabilities and supporting their families. TERI serves more than 800 families in Southern California with more than 19 programs based at its main campus in Oceanside, California, as well as in residential homes throughout the area. The organization's more than 500 dedicated staff members provide educational, social, and vocational opportunities in a positive, supportive environment. TERI has been nationally and internationally recognized as a leader for its successful and innovative model programming and training. For more information, please visit: http://www.teriinc.org.