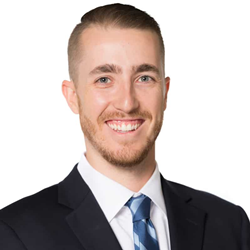 I'm honored to partner with a company that shares my future-forward vision and passion for my clients' success.
SAN DIEGO (PRWEB) May 10, 2021
Joey Bergandi today announced Velocity Realty and its partnership with Side, the only real estate technology company that exclusively partners with high-performing agents, teams, and independent brokerages to transform them into market-leading boutique brands and businesses. The alliance will ensure that Velocity Realty, offering clients full transparency and total dedication to their needs, is powered by the most advanced platform in the industry.
Bergandi was recently named one of the top 500 agents in San Diego County and recognized on San Diego Real Producers' 30 Under 30 list. With four years in the industry, Bergandi has closed over 100 successful transactions and achieved 100% client satisfaction. He has also landed in the top 1% of agents locally for the past three years. Velocity Realty serves a versatile group of buyers, sellers, and investors throughout San Diego County.
Partnering with Side will ensure Velocity Realty remains on the cutting edge of the evolving real estate market while continuing to deliver premium services to its clients. Side works behind the scenes, supporting Velocity Realty with a one-of-a-kind brokerage platform that includes proprietary technology, transaction management, branding and marketing services, public relations, legal support, lead generation, vendor management, infrastructure solutions, and more. Additionally, Velocity Realty will join an exclusive group of Side partners, tapping into an expansive network from coast to coast.
"Side has a proven ability to help talented agents build top-tier businesses," said Bergandi. "It blends stalwart technology with a complete support system, including state-of-the-art marketing, administrative, and legal services. I'm honored to partner with a company that shares my future-forward vision and passion for my clients' success."
Side is led by experienced industry professionals and world-class engineers who develop technology designed to improve agent productivity and enhance the client experience. Based on its belief that homeownership is a fundamental human right, Side is on a mission to improve the public good by providing top-performing real estate agents, teams, and indie brokerages with the best system, support, service, experience, and results.
About Velocity Realty
Velocity Realty is committed to delivering superior service throughout the real estate journey. With full transparency, total dedication, and use of the latest technology, the team ensures clients are informed and coaches them through each milestone. The agents at Velocity Realty love what they do — it shows in their interest in their clients' goals and determination that they succeed. To learn more, visit velocityrealtysd.com.
About Side
Side transforms high-performing agents, teams, and independent brokerages into successful businesses and boutique brands that are 100% agent-owned. Side exclusively partners with the best agents, empowering them with proprietary technology and a premier support team so they can be more productive, grow their business, and focus on serving their clients. Side is headquartered in San Francisco. For more information, visit http://www.sideinc.com.