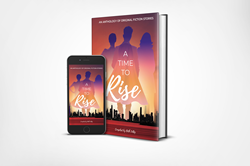 "My hope is they continue to develop and hone their writing skills and nurture their creativity throughout their K-12 education and beyond. There is no limit to what they can accomplish if they start now and dream big."
SAN DIEGO (PRWEB) August 31, 2020
Just as the global pandemic shut down schools indefinitely in the spring of 2020, a handful of talented seventh-grade students were chosen for a unique publishing experience with a local publisher, Inspire Books. These students worked tirelessly to write and edit their stories despite the unique challenges of distance learning, and they were rewarded with the honor of becoming published authors this fall with the release of A Time to Rise.
The unique publishing journey started with a writing project led by middle school teacher Erica Markopolous, who worked with them to create books for nearby elementary students. The writers were then tasked with creating a story based on the likes of their assigned student and featuring that student, so it was quite a challenge to undertake.
Some students used creative flow, like "Wolves at Twilight" author Brooke Byrne, while others plotted out their stories in full before writing. Kento Taylor, author of "Thief," writes, "When I started writing my story, I began by writing down the basic storyline, sometimes giving myself options of what details to include. I didn't put in more specific scenes until I had most of it planned out and began to type my ideas out." Author of "Janae's Journey," Layla Jauregui, adds, "I plot my stories first before writing them, but when I'm adding more details I go with the flow." Maddie (M.K.) Beal used a combination of both plotting and creative flow: "I plotted the story first, but while I was writing I changed things up and went with the creative flow a bit."
Many authors, even adult ones, get stuck even before they get started, but there seemed to be no shortage of ideas with this group. When asked about her writing inspiration, Sophie Ayma, author of "Back to 2020," commented, "I immediately thought of time travel. This topic has always fascinated me, and I often think about how technology will continue to advance through the years. I decided to make the beginning of the story take place in the future because I'm always coming up with a ton of crazy theories on how life will look in a couple hundred years."
The stories were original, well-thought-out, and surprisingly creative. "Many adults forget how capable pre-teens and teens can be," Ms. Markopoulos says of the capability of her students. "Being published authors gives my students a sense of pride, which bolsters the positive feelings they have about themselves, making them more confident teens."
Even with all the challenges, the students did not disappoint, and a handful of these student writers were offered the opportunity to be published in a special volume of short stories. They signed a publishing agreement, worked through a review draft just like adult authors do, and participated in interview questions about the process.
When asked about the best writing advice she's received, "Moonlight" author Jyotsna Devadiga says, "I'd say it was to look at the story as a reader. As a reader, you don't know what is happening and you're reading to find out, in contrast to a writer, who knows what's going on. Looking at it as a reader helps with adding more sensory details and catching missing details the writer might've forgotten to add or didn't add."
Another roadblock in the writing process can be writer's block. Author of "Lost Then Found," Chloe Sun, says of beating writer's block, "I try to stop writing for a while and find more ideas. I take a walk or just browse around the internet to find things to write about or things to add to my story. It helps to step away from writing for a bit, to think, then come back fresh to write." Abby Klubeck, author of "Alien Cookies," commented, "Whenever there's a point where I don't know what to write, I think about how I want the story to end, and what I need to write to get the story there."
Capable writing goes beyond a single project, as it is a vital element in the educational standards for education. The English Language Arts (ELA) Standards ask students to "produce clear and coherent writing in which the development and organization are appropriate to task, purpose, and audience." This writing project was an ideal example of that standard, as the students were required to work through the planning and development stages with an appropriate audience in mind.
Feedback and criticism from beta readers were an integral part of the writing process. When asked how she responds to negative feedback during revisions, "Shadow" author Juliana Hong says, "I just think of the feedback as a way to build my story into a better one. Be it negative or positive feedback, it's all the same for me. I just take it as constructive criticism."
The founder of Inspire Books, Beth Lottig, has a special place in her heart for young writers, and she will continue offering programs that not only teach the writing process to young students but also provide those same students with the opportunity to write to a larger authentic audience. "These students are so incredibly talented! My hope is they continue to develop and hone their writing skills and nurture their creativity throughout their K-12 education and beyond. There is no limit to what they can accomplish if they start now and dream big."
To learn more about student writing and publishing, please visit https://www.inspire-books.com/student-authors.