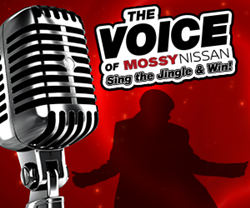 SAN DIEGO (PRWEB) December 17, 2018
As a Thank You to the community for supporting their seven dealerships over those 30 years, Mossy Nissan hosted a sing the jingle and win contest – "The Voice of Mossy Nissan." The winner is set to be announced Tuesday, December 18, 2018, giving the Grand Prize winner the chance to have their voice featured in a Mossy Nissan commercial, $1,000 cash and $2,000 to donate to the local charity of their choice.
The contest had many amazing entries through social media - Facebook, Instagram and Twitter. Each month local celebrity judges Kiyoshi Shelton and Tolan Shaw picked a finalist. Then, because there were SO many awesome entries, a final WILDCARD winner was drawn as a bonus surprise.
The 4 lucky finalists chosen were Taylor Waits, Erika Davies, Stephen Ray and the Wildcard pick was Steffy Abayan. These talented San Diegans competed for the grand prize on social media where the public voted for their favorite. The winner will be announced at Mossy Nissan Chula Vista, 1885 Auto Park Pl, in lovely Chula Vista. The event will be hosted by radio station 9.33 and Radio DJ C-Riz will MC the festivities.
General Manager Kim Yuquimpo says, "Please feel free to bring as many family & friends as you like. We've heard from so many talented musicians and we are proud to host the finals here at the Chula Vista dealership."
Mossy Nissan General Manager Kenny Afshar says, "This contest was a bunch of fun for everyone. We really got a lot of amazing entries. It was hard to pick just 4 finalists! We are so thankful this jingle has been a part of San Diego for so long! We really want to tell San Diego - Thanks for 30 Years!"
OFFICIAL CONTEST PAGE:
https://www.mossynissan.com/TheVoiceOfMossyNissan/
ABOUT MOSSY NISSAN
Mossy Nissan has been serving the San Diego community since 1982. Mossy is the premiere San Diego Nissan car dealer with 7 convenient locations; Chula Vista, El Cajon, Escondido, Kearny Mesa, National City, Oceanside and Poway.
About Judge Kiyoshi
Kiyoshi is a purpose driven wordsman whose fusion of upbeat hip-hop and soulful sounds sends lightning bolts of conscious energy and thought into audiences around the provoke the world to listen and feel what is true. Kiyoshi's authentic sound blended with a highly interactive stage performance gets the crowd moving like no other.
http://kiyoshimusic.com/ Stay up to date on all things Kiyoshi by following him on Facebook, Instagram & Twitter And check out Kiyoshi's latest music on Spotify, Soundcloud & YouTube
ABOUT JUDGE TOLAN SHAW
Tolan Shaw is an award-winning artist who has risen in the Southern California music scene as a pop/soul singer-songwriter who will stop at nothing to build a career with his original music. Both a solo acoustic troubadour and the frontman of his own band, Shaw's music is catchy and soulful, bluesy and melodic, poppy and sincere.
It is also highly inspired by his yearn to travel and to learn about the world and its people. In the last year, Shaw won "Best Singer-Songwriter" at the 2017 San Diego Music Awards, became a Taylor Guitars official artist, wrote music with notable hit writers, and took a 4 month journey to Southeast Asia (endorsed by Taylor and GoPro) to write music and create a travel-music video series called "Wandersong." Having shared the stage with international acts such as Gavin Degraw, Nate Ruess, and Switchfoot, toured nationally and internationally, and achieved success placing and licensing songs with various TV networks and music libraries, Shaw is well positioned to become a career artist and a songwriter.
CREDIT: http://www.tolanshaw.com/ Stay up to date on all things Tolan Shaw by following him on Facebook, Instagram & Twitter And check out Tolan's latest music on iTunes, Spotify, Soundcloud & YouTube
ABOUT MOSSY AUTOMOTIVE
Mossy Auto Group is one of the premier Group dealers in Southern California. With 14 dealerships in the San Diego area including: 7 Nissan dealerships, Ford, Toyota, Honda, Volkswagen, Fiat, Alfa Romeo, now Mitsubishi. Mossy Auto Group offers the largest selection of new and pre-owned vehicles in San Diego, as well as offering a state of the art service department and collision center.
The Mossy family entered the automotive industry over 70 years ago. Mossy has grown from one dealership - with approximately 200 employees - to where they are today with fifteen dealerships and over 2,000 employees. They attribute this growth to the philosophy of the Mossy Family: all people deserve to be treated fairly and equally – with integrity and professionalism.