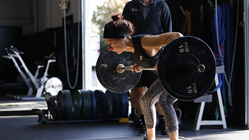 I absolutely love Activ8! I have been doing the online platform of training with Coach Dan writing my workouts, and I love it! Hands down the BEST training facility! - Jake S.
SAN DIEGO (PRWEB) January 09, 2019
Jana Rowland, the CEO of JWRX and the Marketing and Business Development Consultant for Activ8, an elite sports performance training facility in Carlsbad, CA. designed to develop movement patterns as it relates to sports to maximize individual's athletic performance, announces online training easily accessible from any location.
In this day and age time is money and having access to the right resources is imperative to being successful in any aspect of life. Bad time management and being a step behind on the latest trends are some of the barriers causing people to come up short. One of the newest trends in fitness is online training. This is where workout programs are accessible to you on your mobile device.
"Activ8 is an exceptional training facility; the coaches, the facility, the equipment, and the atmosphere are all outstanding! Their online training is also amazing, it surpasses all expectations. The online training has been a crucial part of my athletic success!" - Brooke B.
Online training is an effective way to follow a customized program. Online training is much more affordable than personal training and has very similar benefits. There are many online training options in 2019, however, not all are created equal with the majority designed for the masses.
Cookie cutter programs, such as these, do not factor in flexibility and mobility issues as well as strengths and deficiencies for each individual. Yes, you may be able to find a fat burning or muscle building online program but is that program customized specifically to you?
Does it take into consideration your injury history, current limitations and go in depth into finding what regimen you'll most likely stick to? "Activ8 understands the importance of designing custom programs for clients, it's what we do on a daily basis." says Anthony "TJ" Moreno, Director of Sports Performance and CoFounder of Activ8. Now you can have that same individualized attention even if you don't live in the San Diego area along with the same staff that coaches our professional athletes.
"I absolutely love Activ8! I have been doing the online platform of training with Coach Dan writing my workouts, and I love it! Hands down the BEST training facility!" - Jake S.
What works for one usually doesn't work for another and this is why cookie cutter programs fail. Individuals body's respond differently to various stimulus and that is why every online program Activ8 offers is fully customized. Their training programs are tailored to you and designed for specific goals for athletes and their respective sport. Activ8's New Years resolution is to change online training forever. Activ8's favorite motto, "Let's Go!"
You can access Activ8's online training programs here: http://www.Activ8Now.com
JWRX a Business Consulting and Marketing Content Firm that solves complex business problems by leveraging content and technology. JWRX develops content marketing, lead generation and educational platforms delivered in an easily consumed format to help C-Level Executives, small businesses and solopreneurs move forward in the Athlete Wellness, Blockchain and CBD industries.