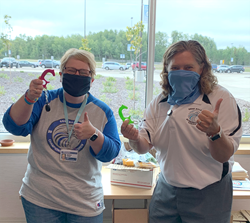 I basically reached out to him because his device saves lives. Make no mistake about it!
SAN FRANCISCO (PRWEB) September 20, 2020
In the wake of COVID-19 spikes among U.S. students over the last few weeks amid school reopenings, 13 year-old, Mizan Rupan-Tompkins, creator of the Safe Touch Pro Handle, was inspired to launch an initiative to help every student and teacher, in hybrid and in-person learning environments, with FREE access to his germ-resistant devices during the pandemic. His antimicrobial plant-based safety device allows students and teachers to safely access classroom and school bathroom doors free of touch.
After being declared the 2020 "Better Days Ahead" winner by national safety advocacy organization, Safe and Sound Schools, Mizan received an email from a Minnesota teacher who teaches children with special needs. "She was asking about the cost of my product and she wanted to keep herself and her students safe. I told my parents I wanted her to have them without worrying about the price. So we sent them to her and her class for free," he recounts. "I started reading news stories of COVID spikes in schools and hearing about concerned parents, teachers and students across the country and wanted to do something about it."
Since schools have reopened in the U.S., COVID-19 spikes among students and teachers in certain areas of the country have caused many to question if current school safety guidelines are enough. Recently in Florida, coronavirus outbreaks and infections among school-age children jumped 34 percent.(1) Days ago, the Utah Education Association wrote its Board of Education, requesting better, "measures to protect the health and safety of public school students, educators and school staff,". (2) And a number of California schools have reopened for in-person learning even while the state classifies most of its counties under "Widespread" COVID-19 status. (3)
"I basically reached out to him because his device saves lives. Make no mistake about it!" exclaims, San Mateo County, California, Board of Supervisors Vice President, David Canepa, who recently awarded Mizan a proclamation for his efforts to combat COVID-19.
Candice Celestina of Wisconsin, a supporter of "Operation Student Shield", wrote, "Absolutely a great idea! :)".
To learn more about "Operation Student Shield" and how to help, visit:
http://www.protecteverystudent.com or
http://www.safetouchprohandle.com/donate-to-schools
https://www.facebook.com/safetouchpro
About Safe Touch Pro
Safe Touch Pro was founded by 13 year-old, San Francisco-Bay Area resident, Mizan Rupan-Tompkins, who created the product and company after witnessing his parents struggle to open public doors with their sleeves, in the name of protecting themselves from Coronavirus. Safe Touch Pro is the first utility tool of its kind to use both antimicrobial silver ions to stop harmful microbes and be made of plant-based material.
At age 8, Mizan was tinkering with microprocessors and coding in several programming languages. By age 10 he had received accolades from Barnes & Noble bookstore as one of its "Mini Makers" of the year. Months later he found himself presenting his "Age Guessing Bot" at Maker Faire Bay Area to thousands of people.