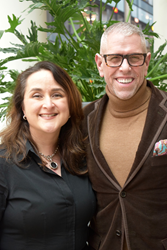 This move gives us the opportunity to not only expand our offerings to new market segments but solidifies our place as one of the leading lifestyle firms in the Bay Area and nationally.
SAN FRANCISCO (PRWEB) March 04, 2020
Fresh on the heels of the successful launch of its partner branding and creative services agency, Carbonate, the evolution of af&co. (formerly Andrew Freeman & Co.) continues. The award-winning agency has officially announced its merger with Ellipses Public Relations, becoming one full-service communications agency. Operating as af&co., the 17-person firm is headquartered in downtown San Francisco and specializes in lifestyle, hospitality, food and beverage marketing and public relations, serving the Bay Area and beyond. Andrew Freeman continues his role as president and chief executive officer, and Ellipses founder and CEO Diana Haven fills a new chief operating officer position at the growing agency.
"Our two agencies have been close collaborators and referral partners for some time, and Diana and I have been friends for 15 years," said Freeman. "The merger of our two firms was the next step in the evolution and growth strategy for af&co. In addition to having amazing connections with the media, Diana and the team she has brought with her have deep experience in digital strategy, consumer packaged goods marketing and lifestyle public relations. This move gives us the opportunity to not only expand our offerings to new market segments but solidifies our place as one of the leading lifestyle firms in the Bay Area and nationally. As af&co. celebrates its 15th anniversary, the time was right and the combined talent of our teams is incredible. This is truly a merger of the minds and takes full advantage of our respective strengths as leaders and entrepreneurs."
"It's been incredible to watch both of our businesses thrive over the years, and this merger makes perfect sense. We've each built successful and respected agencies, and I feel the joining of the two is a game-changer for the Bay Area's lifestyle PR and marketing industry. The merger is an incredible move for us, our teams and our clients, and I'm very excited to help lead the business into the 2020s and beyond," said Haven.
About Andrew Freeman
A native of New Jersey, Freeman learned the restaurant business by working through the ranks at several legendary New York venues. At Windows on the World, Andrew was vice president of public relations and marketing and responsible for its relaunch after the World Trade Center bombing in 1992. At the Russian Tea Room, Andrew opened the Cabaret which became the toast of the town after only six months. He also spent six years as vice president of public relations for the Rainbow Room, working with restaurant legend Joe Baum. Prior to opening af&co., Freeman was vice president of public relations and strategic partnerships for Kimpton Hotels and Restaurants. He spent ten years with Kimpton, launching over 40 hotels and restaurants as well as the global brand. During his tenure there Andrew helped spearhead the LGBT travel program, which has garnered numerous awards and positioned Kimpton as one of the top companies for LGBT employment in the country. In 2002, Kimpton became the first hospitality company to receive a 100% score on the Human Rights Campaign Foundation's Corporate Equality Index.
A dedicated philanthropist, Andrew sits on the boards of CUESA, Dress for Success San Francisco and The Richmond Ermet AIDS Foundation. He is a former board member of Meals on Wheels San Francisco, the San Francisco Convention and Visitors Bureau and the Anti-Defamation League, and was an advisor for the American Airlines LGBT Committee. From 2016 to 2019, af&co. has been named by the San Francisco Business Times as one of the Top 50 LGBT-Owned Businesses in the Bay Area.
About Ellipses and Diana Haven
Ellipses was founded in December 2007 after Haven's 15-year career in public relations and television, which took her from promoting the performing arts in the early 1990s to working with tech clients in the "dot-com boom" of the late 1990s, then to TechTV as booking manager and producer from 1999 to 2002. Prior to Ellipses, she was the public relations director at The Ritz-Carlton, Half Moon Bay from 2003 to 2007. Her award-winning efforts, which included an outdoor concert series, celebrity chef and culinary classes, and an annual silent auction, contributed to significant increases in top-line revenue and international acclaim for the resort by driving annual media impressions from 600 million in 2003 to 1.2 billion in 2005.
A boutique agency headquartered in Oakland, Ellipses has represented more than 100 clients in the hospitality, travel, food, beverage and special events industries, launching over 40 restaurants and destinations throughout the greater Bay Area including The Culinary Institute of America at Copia, Fog City, Dumpling Time, La Marcha, Urban Putt, Lord Stanley, Niku Steakhouse and the Butcher Shop by Niku. Clients moving with Ellipses to af&co. include OCHO Candy, The Berkeley Boathouse and Altamirano Restaurant Group.
About af&co.
Celebrating its 15th year in 2020, af&co. is an innovative lifestyle marketing and media relations agency with clients across the country. The af&co. team has launched over 150 restaurants and hotels, provided ongoing marketing, public relations, and operations consulting for more than 200 others, and created unique culinary events of all sizes, from intimate dinners to food and wine festivals of over 10,000 people. In early 2020, af&co. launched Carbonate, a brand strategy and creative services agency. af&co. and Carbonate are known for bringing a fresh approach with bold results, with an emphasis on hotels, restaurants, food, wine, spirits, travel, and destinations.
Among the agency's current clients are 4505 BBQ, Bluestem Brasserie, Duende, E & O Kitchen and Bar, Evolution Hospitality (Vespera on Ocean/AC Santa Clara/AC Sunnyvale), Golden Gate Restaurant Association, Gott's Roadside, Mr. Espresso, One Market, Palette, Perbacco and barbacco, Ramen Nagi, River Terrace Inn, Roman Spa & Hot Springs, TCHO Chocolate and Virgin Hotels SF. For a complete list of current and past clients, please visit http://www.afandco.com.