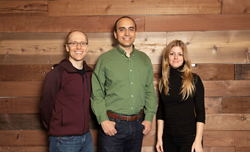 SAN FRANCISCO (PRWEB) June 25, 2019
Startup bookkeeping company, Pilot.com, is excited to announce the opening of a new office in Nashville. This is the San Francisco-based company's second office and represents a homecoming for company founder and former Nashville resident, Jessica McKellar. The company plans to create over 450 new jobs in the Nashville area over the next five years. This expansion is supported by the $40 million Pilot recently raised, led by Index Ventures with participation from Stripe, to accelerate adoption of its service, fuel product development, and grow the team.
Pilot puts premium bookkeeping services within reach of companies of any size. The company specializes in freeing up startup founders and CEOs from the often tedious and complex process of keeping their company's books in order; giving them peace of mind and allowing them to focus on their businesses.
For McKellar and Pilot, Nashville's growing tech and startup scene, coupled with a particularly strong group of accounting professionals stemming from the city's accounting and financial management schools made Nashville the perfect place for the first office in Pilot's expansion plans.
"Nashville was always at the top of our list of candidate locations for a second office," said McKellar. "The city has great schools, attracts incredible, diverse talent, and is making smart investments to support its burgeoning startup scene. I also know first-hand that it's a great place to live and raise a family."
McKellar grew up in Nashville and graduated Valedictorian from Franklin High School. It was here that she was first introduced to programming, which would eventually take her to MIT, the San Francisco Bay Area, and now back to Nashville as the Founder and CTO of Pilot.
Pilot plans to open the Nashville office by September 2019.
About Pilot
Pilot provides high quality bookkeeping services for tech startups of any size. By combining the unique strengths of software technology and real-life bookkeepers, Pilot gives tech startups the freedom to focus on their business knowing their own dedicated bookkeeping expert will accurately manage their books and provide detailed reports every month. To learn more about Pilot and best financial practices for startups of all sizes visit the Pilot blog (http://www.pilot.com/blog).