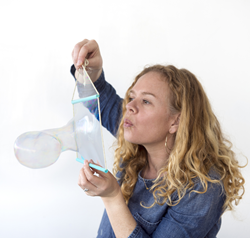 Bring outdoors inside with the Presidio Trust's "Presidio at Home for Families" pages with a virtual scavenger hunt, bird watching and crafts like making butterflies from toilet paper roles and coyotes from tissue boxes.
SAN FRANCISCO (PRWEB) May 04, 2020
San Francisco's museums and attractions offer a wide variety of enriching "do it yourself" projects for kids at home, which can also create a little "me time" for Mom. These online resources also offer content of interest to adults, so further exploration is advised.
To help parents navigate becoming full-time, at-home educators for younger children, the Bay Area Discovery Museum (BADM) offers "Bringing BADM to You" with a series of tips and playful activities created by BADM educators. Every activity relates to one of three areas of early childhood development – Talk & Play, Science & Math, or Body & Brain. Within each theme are step-by-step videos, activities with written-out instructions, and tips to turn everyday moments into meaningful experiences. Each activity is research-backed and designed so children achieve one or more of BADM's seven learning goals. In addition, every Thursday BADM hosts a live Q&A with an early education expert.
The Exploratorium's Science Snacks is a collection of 285 hands-on, teacher-tested activities that use inexpensive household materials. They are divided into easy-to-follow sections that include instructions, advice, and helpful hints. Each one begins with a photo and/or video, a short introduction, and a list of materials. Other sections include assembly instructions, how to use the activity, and explain what's going on, science-wise. Most Science Snacks can be built by one person. If a partner or adult help is needed, this is also indicated. Topics include Astronomy and Space Science, Biology, Chemistry, Data, Engineering and Technology, Mathematics, Perception, Physics and more.
The Asian Art Museums offers 37 videos of exciting legends and tales, involving fantastic samurai, tigers, dragons and magic, all told by expert storytellers. The Education section of the museum's website holds many more activities and adventures that can be explored by topics or regions of the Asian continent.
Students in grade six or higher can also "Create Your Own Mandala" with the Asian Art Museum. A mandala is a geometric meditation map made of nested squares and circles, typically arranged to represent the center of the universe and the four main directions, east, west, north, south. Before starting work on their own designs, participants can learn about the art form, then see a time-lapse video of six Tibetan Buddhist monks from the Drepung Loseling Phukhang Monastery in South India who created a sand mandala for the Asian Art Museum in 2012.
Packed among the San Francisco Maritime National Park Association's colorful cargo of online activities are instructional videos on knot tying, a list of sailor vocabulary (not the salty kind) and "Do-it-at-Home-Activities" that can be printed and completed at home. These activities teach students how to build their own boat, draw their own oceanscape, 'reave' block and tackle, search for nautical words and more.
The Museum of Craft and Design has launched MCD@Home, partnering with artists and community collaborators to create new content for at-home projects based on the themes, concepts, and materials found within the museum's signature programs and exhibitions. For example, kids can make flower crowns for Mom. Other projects include homemade hand sanitizer, DIY spirograph and newspaper architecture.
"Take 10" is a series of interactive theater games for all ages from American Conservatory Theater, part of "This Is Just Intermission—InterACT at Home." It only takes 10 minutes to let your imagination soar and laugh with friends and family. A new game will be posted every week.
The Walt Disney Family Museum (WDFM) offers a series of virtual classes taught by a live instructor. Students can interact directly with the teacher to ask questions and receive personalized guidance throughout the class, all enjoyed from the comfort of home. There are different sessions for students in grades 6-12 and adults. Space is still available for the next series, beginning on May 16, 2020.
The museum also offers a collection of free education resources for download, including instructional guides on animation basics, from making your own flipbook to the do's and don't's of using shape language to design characters, and much more.
Bring outdoors inside with the Presidio Trust's "Presidio at Home for Families" pages with a virtual scavenger hunt, bird watching and crafts like making butterflies from toilet paper roles and coyotes from tissue boxes.
The San Francisco Botanical Garden's online family activities include "Build a Bug" and "Nature Story Time." Parents will also appreciate the serene Zoom backgrounds and yoga classes on the site.
The San Francisco Public Library's "Sweet Stories with SFPL," a virtual storytime of short video of songs, rhymes and a story to enjoy with young children, are presented every Tuesday and Thursday at 2 p.m. and in Spanish on Saturday at 10 a.m. on the Library's Instagram page (@sfpubliclibrary). "Sweet Stories with SFPL" is also available on the Library's YouTube channel to replay at your convenience. The Library encourages parents to repeat the videos as a way for children—and grownups—to learn the songs.
Speaking of songs to learn, Golden Gate Park's 150th anniversary website has an entire section with activities for kids including a sing-along version of the park's catchy theme song. Several kids concerts are featured, including livestreams on May 5 at noon and May 9 at 10 a.m., with Marta Lindsey, author of "Golden Gate Park, An A to Z Adventure," featuring special musical guests, book readings, trivia games and art for kids and families. The book's illustrator Michael Wertz, who produced anniversary theme song will also unveil a new song "B is Bison" during the concerts. The concerts and others are available for viewing online anytime. There are also coloring book pages to download and virtual tours of park attractions like the Conservatory of Flowers and the bison paddock. New content is being added to the website every week.
The San Francisco Travel Association is the official destination marketing organization for the City and County of San Francisco. For information on reservations, activities and more, visit http://www.sftravel.com or call 415-391-2000.
For more about San Francisco, follow http://www.facebook.com/onlyinSF, http://www.instagram.com/onlyinsf and https://twitter.com/onlyinsf. Please use hashtags #sftravel and #AlwaysSF.
San Francisco International Airport (SFO) offers non-stop flights to more than 50 international cities on 44 international carriers. The Bay Area's largest airport connects non-stop with 85 cities in the U.S. on 12 domestic airlines. SFO offers upgraded free Wi-Fi with no advertising. For up-to-the-minute departure and arrival information, airport maps and details on shopping, dining, cultural exhibitions, ground transportation and more, visit http://www.flysfo.com. Follow SFO on http://www.twitter.com/flysfo and http://www.facebook.com/flysfo.
United Airlines is the preferred airline of the San Francisco Travel Association.