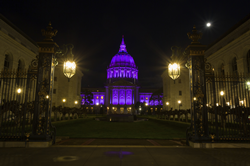 SAN FRANCISCO (PRWEB) April 17, 2020
San Francisco Starts Purple Lighting Trend to Honor Hospitality Workers
What began at San Francisco's iconic City Hall has grown to become a regional tribute to hospitality industry workers affected by the coronavirus pandemic.
Almost immediately after City Hall announced that the building would be lighted in purple on three Mondays (April 6,13 and 20), hotels and major tourism-related locations throughout the city committed to doing the same.
By the second Monday, the list of participants had grown to a total of 24 buildings including (alphabetically) the California Academy of Sciences, Chase Center, City Hall, Coit Tower, the Conservatory of Flowers, the Exploratorium, the Ferry Building, Fort Mason Center, Ghirardelli Square, the Moscone Center, Oracle Park, San Francisco International Airport, SFMOMA and 11 hotels in San Francisco.
The trend grew beyond San Francisco to include the Fairmont Sonoma Mission Inn, the Claremont Club & Spa (a Fairmont hotel) in Berkeley, the Winchester Mystery House in San Jose, The Wave in Dublin, a park fountain in Livermore, and as far south as the California Bank & Trust in Torrance.
Statewide, a total of 30 buildings are glowing in purple lights in tribute to those who welcome visitors from around the world and have now experienced personal and economic hardships as the city, state and nation work to stop the spread of COVID-19.
The color purple was selected to represent hospitality because of its blend of luxurious, confident red and relaxing, comforting blue.
At least seven San Francisco hotels displayed heart shapes made of the lights in empty hotel rooms, also in honor of their workforce.
"Thousands of employees in our hospitality and tourism industry have been heavily impacted by the ongoing coronavirus crisis," said San Francisco Mayor London N. Breed. "We know this is an incredibly difficult time for hospitality workers and that many are experiencing uncertainty and financial hardships. We're committed to helping them through this time because of all they've done for San Francisco. Lighting buildings throughout the city in purple is a symbol of that commitment and our gratitude for their work."
"This tribute to hospitality workers is a testament to the power of travel," said Caroline Beteta, president and CEO of Visit California. "As the hospitality industry looks to the future, these dedicated workers will help light the way toward re-establishing travel as an engine of California's economy."
"This colorful tribute makes me proud that San Francisco's leaders, landmarks and hotels and others throughout the state have stepped up in the midst of this crisis to show our hospitality professionals how much we appreciate them," said Joe D'Alessandro, President and CEO of San Francisco Travel Association.
"The smiles and heart of our hotel workers are being translated into purple lighted windows and landmarks all over San Francisco," said Kevin Carroll, president and CEO of the Hotel Council of San Francisco. "San Francisco can be proud that the curve is bending. When the current health crisis is past, San Francisco's hospitality professionals look forward to smiling again in person."
Tourism is San Francisco's largest industry. The San Francisco Travel Association reported a total of 26.2 million visitors to the city in 2019, spending $10.2 billion. The industry supported 86,111 jobs and generated $819.7 million in taxes and fees for the City of San Francisco in 2019.
San Francisco Travel is the official destination marketing organization for the City and County of San Francisco. For information on reservations, activities and more, visit http://www.sftravel.com or call 415-391-2000. For more about San Francisco, follow http://www.facebook.com/onlyinSF, http://www.instagram.com/onlyinsf and https://twitter.com/onlyinsf. Please use hashtags #sftravel and #AlwaysSF.
San Francisco International Airport (SFO) offers non-stop flights to more than 50 international cities on 44 international carriers. The Bay Area's largest airport connects non-stop with 85 cities in the U.S. on 12 domestic airlines. SFO offers upgraded free Wi-Fi with no advertising. For up-to-the-minute departure and arrival information, airport maps and details on shopping, dining, cultural exhibitions, ground transportation and more, visit http://www.flysfo.com. Follow SFO on http://www.twitter.com/flysfo and http://www.facebook.com/flysfo.
United Airlines is the preferred airline of the San Francisco Travel Association.