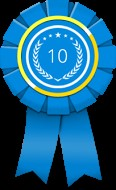 SAN FRANCISCO (PRWEB) June 28, 2019
Recently, 10 Best Design announces the top 10 winners of its Best San Francisco Web Design Firm awards for June 219, selecting EIGHT25MEDIA as the top contender.
The art of web design and development is no mindless talent, and while many firms proclaim to be adept at this trade, some aren't as proficient as others. In an effort to distinguish the good from the bad, 10 Best Design has formulated a series of evaluations and polls to find the top design firms around the world. After some thorough analysis, 10 Best Design dubbed the following web design firms the best in the San Francisco area.
A trusted name in the web design field, EIGHT25MEDIA holds a prestigious title. Recognized as one of the top San Francisco web development firms, EIGHT25MEDIA has both heart and aptitude. Having built over 500 websites, EIGHT25MEDIA is undoubtedly prolific. From their expertise to their penetrating intuition, EIGHT25MEDIA has many merits. Partnering with brands from all backgrounds, EIGHT25MEDIA specializes in the tech, energy, consumer, and B2B industries. Given their profound insight, this best web design firm specializes in everything from web design to digital marketing.
An innovation-inspired design agency, Arhue is a leading web design firm that goes beyond the norm to discover the creative unknown. Backed by years of industry experience, Arhue is well versed in their field. Some areas in which they thrive include branding, digital PR, strategy, and consulting. Coupling next-level design with novel ideas, Arhue aims to arm their clients with a distinct edge. Self-described as web design experts, Arhue is exceedingly skilled in the dynamics of their craft. As they continue to make a splash with audiences, Arhue intends to leave a meaningful impact in their wake.
Turning much of what they touch to gold, Spiral Scout is a top web design firm that helps brands establish their online appeal. Through the power of custom, cohesive, and creative content, Spiral Scout strives to build digital experiences that offer timeless appeal. From Adobe and FedEx to Walmart and Coca Cola, Spiral Scout's partnered with some notable names in the industry. A few of the services they render include internet marketing, digital design, web maintenance, and content management.
For more information about the award winners for the month of June, visit http://www.10bestdesign.com.