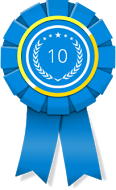 SAN FRANCISCO, Calif. (PRWEB) October 29, 2018
10 Best Design is excited to announce the winners of its Best San Francisco Web Design Firm awards for October 2018, giving San Francisco's Fluid the top honor.
San Francisco and the entire Bay Area have a booming economy, which is why a savvy CEO knows that it is necessary to have an optimal web design and layout. Getting a site's design and functionality right is a tricky prospect, and finding the top SF web development agency can make a big difference in a company's ability to be competitive and profitable. Because there are so many web development firms in the San Francisco area, the 10 Best Design listing service has created a brand-new awards category. This new monthly award assesses the top performers for web design services in the San Francisco area. CEOs and small business owners can refer to this list in order to find the best web design firm for their needs.
A business owner would do well to select Eight25Media, as it is among the top SF Web development agencies in the business. Maintaining a 99 percent customer satisfaction rating, Eight25Media is known for its ability to use solid architecture and create secure platforms for eCommerce. Companies that often have flash sales or other temporary periods of heavy activity know that a strong and secure architecture are essential for maintaining the consumer's trust and for motivating the consumer to complete the transaction. Eight25Media works with clients across many industries and niches.
Another agency that has earned honors as a top 10 performer in web design services in October 2018 is KNI. Being a leading web design firm, KNI has a 99 percent customer satisfaction rating. The company has offices in San Francisco, and its staff includes up to 50 web developers and programmers. KNI's area of expertise is in responsive site designs. They strive to complete sites that deliver an impeccable user experience no matter what size or type of a device a consumer uses to access it.
A third firm that has garnered recognition for being a top performer for web design services in San Francisco is Fluid. Fluid is a top web design firm with up to 250 full-time staff members working there at any given time. While its offices are in Oakland, this company also serves the needs of businesses located in San Francisco and the surrounding areas. The firm has attained a 99 percent customer satisfaction rating, which means that business owners can feel confident about choosing it.
To learn more details about the award-winning firms for October 2018, visit http://www.10bestdesign.com.