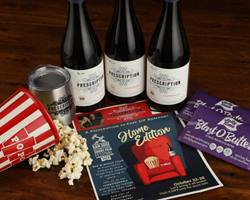 We have an exciting and innovative virtual festival experience planned and are incredibly honored to present these amazing films
SAN JOSE, Calif. (PRWEB) October 07, 2020
The 12th Annual San Jose Int'l Short Film Festival – Home Edition. Like many film festivals in 2020, the event is going virtual with screenings of 100-plus short films, filmmaker interviews, and exclusive musical performances by international recording artists.
Tickets are on sale for the 12th Annual San Jose International Short Film Festival (SJSFF), an incredible lineup of more than 100 imagination-stretching short films from across the globe, shown over four days and all presented in the comfort of your own home. The films are programmed into more than 20 screening blocks plus special events, a testament to the featured films' creative range. They exemplify excellence in every genre, from thought-provoking documentaries and dramatic shorts to world cinema, comedy shorts, entertaining science fiction/horror selections, beautifully crafted animation, family-friendly shorts, and more.
The festival runs October 22nd through 25th and offers a limited VIP Festival Wine Experience with Prescription Vineyards. The package includes the winery's 2018 Clarksburg Chardonnay, 2018 Alexander Valley Cabernet Sauvignon (inaugural sneak peek), buttery popcorn, exclusive film panels, festival swag, and access to watch any screening, any show on any day. The VIP Festival Wine Experience Passes are just $99 each. Buyers must be 21+ to purchase.
"Music and fine wine have been a long tradition at our festival," said co-founder and co-producer, Bill Hargreaves. "We're grateful that Prescription Vineyards, A&R Worldwide, and Passport Approved Radio have helped us transition these experiences to our virtual event."
A&R Worldwide Musical Showcases
We are also passionate music fans, so our team has worked with our friends at A&R Worldwide and Passport Approved Radio to bring international recording artists to the festival. On Thursday, Friday and Saturday, the evening screenings will open with countdown discovery showcase performances by Switzerland's Veronica Fusaro, Australia's Hamish Anderson, and Ohioan Gina Brooklyn. A&R Worldwide's discovery and development history of artists include Coldplay, Katy Perry, Keane, Adele, Muse, Sia, Gavin James, and many more chart-topping artists.
"Some of the most iconic and memorable moments in film and other forms of visual content have been made even more powerful with the perfect song or soundtrack. A&R Worldwide recognizes the important intersection between music and the big screen; its ability to support the storytelling and evoke emotions as well as change the trajectory of many artist's careers," said Tyler Polzin, Vice President at A&R Worldwide. "Rob and Bonnie of Prescription Vineyards have been longtime supporters of the work we do through our MUSEXPO event in Los Angeles. We're very excited to help deliver some of that great global music talent to the film festival!"
Film Festival Passes
The film festival features more than 20 themed blocks of films. All films can be screened via Chromecast, Apple TV, computer, tablet, and most smartphones.
VIP Festival Prescription Vineyards Wine Experience - $99.00 (Must Be 21+)
Includes a 1 Bottle of Prescription Vineyards 2018 Clarksburg Chardonnay, 1 Bottle of Prescription Vineyards 2018 Alexander Valley Cabernet Sauvignon, Full Access to All Screening Blocks, See Any Screening, Any Show, Any Day, Watch Exclusive Film Panels On-Demand, Invitation Only Zoom Events, Enjoy VOD Monday, Re-screen Any Block, All Day
All-Access Pass - $25.00
Special Pricing for 2020, Best Value for Film Lovers, See Any Screening, Any Show, Any Day, Watch Exclusive Film Panels On-Demand, Invitation Only Zoom Events, Enjoy VOD Monday, Re-screen Any Block, All Day
Individual Screening Blocks - $8.00
Purchase individual tickets for any screening block. TICKET Button is under each film block description