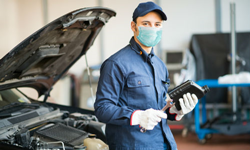 GILBERT, Ariz. (PRWEB) February 10, 2021
Hyundai owners in the Tempe and Mesa areas looking for a trustworthy service center for their vehicle's routine maintenance can feel confident bringing their cars and SUVs to San Tan Hyundai. The staff at the San Tan Hyundai dealership service center has been recognized for its commitment to customer satisfaction for the last four years in a row. San Tan Hyundai has received a #1 National Service Satisfaction Hyundai Dealer of the Year ranking for 2017, 2018, 2019 and 2020.
At San Tan Hyundai, the service team offers Gilbert and Mesa Hyundai owners with routine vehicle maintenance, major repairs, after-market installations and more. The car care services at the San Tan Hyundai service center give local Hyundai owners the confidence they're looking for when searching for a local automotive service shop.
San Tan Hyundai regularly offers service coupons and specials to help Gilbert drivers save the most money they can on vehicle service and repairs. Local Hyundai owners can bring their vehicles in to San Tan Hyundai for a wide variety of services such as brake replacement or repair, tire rotations and balancing, oil and filter changes, headlight repairs, major body work and more.
During these unprecedented times the staff at San Tan Hyundai has put new standards of practice in place to keep the team and customers safe during vehicle service appointments. Precautions in the San Tan Hyundai service center include using plastic covers on vehicle seats and steering wheels, ensuring all employees are using protective gloves, disinfecting highly trafficked surfaces, eliminating employee to guest close contact and keeping seats in shared areas six feet apart where possible.
More information on the awarded San Tan Hyundai service center can be found on the dealership's website, santanhyundai.com. Individuals looking for answers to specific inquiries are encouraged to contact the service team directly by calling 888-558-3408.