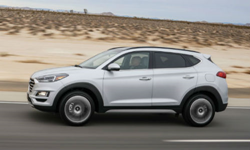 GILBERT, Ariz. (PRWEB) November 06, 2020
San Tan Hyundai offers military members and veterans $500 off their new Hyundai vehicle as a thank you for their service. Now through Nov. 15, this everyday discount is being doubled to give local heroes even more savings.
Eligible military personnel who shop for their new Hyundai vehicle at San Tan Hyundai can now double their savings and receive a $1,000 credit to put towards their purchase. This program offer is available for active duty, reservist, National Guard, veteran and retired U.S. Military personnel who served in the United States Navy, Army, Air Force, Coast Guard, Marine Cops, National Guard or reserves. Spouses of qualifying military members may also receive this credit. Additional requirements and restrictions may apply.
This military program offer is being doubled through Nov. 15 and the credit can be applied towards any new vehicles in the San Tan Hyundai inventory. The Gilbert dealership has more than 450 new Hyundai vehicles in stock at the time of publication. Interested individuals can choose from a broad range of new models at the dealership, including local favorites such as the Hyundai Elantra, Hyundai Palisade, Hyundai Santa Fe and Hyundai Tucson.
Anyone can view the dealership's entire catalog on the San Tan Hyundai website, santanhyundai.com. Members of the dealership team can be reached by phone to answer any questions about available models or the Veteran's Day Savings deal, 480-384-8000. San Tan Hyundai is located at 3252 S Auto Way, Gilbert, AZ 85297 and is open seven days a week. Interested customers can visit San Tan Hyundai in person Monday through Friday from 8 a.m. to 9 p.m., Saturdays from 8 a.m. to 8 p.m. and Sundays from 10 a.m. to 6 p.m.