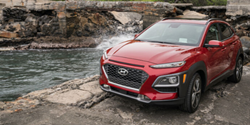 GILBERT, Ariz. (PRWEB) July 09, 2020
No Bull Express is available now on the San Tan Hyundai website, giving customers the ability to buy or lease a new vehicle from the comfort of their home. The entire lease or purchase process can be completed online, without any trips to the dealership.
No Bull Express brings every step of the purchase process online, including finding a vehicle, estimating a trade-in value, applying for financing and more. With No Bull Express on the San Tan Hyundai website, users can quickly filter through new and used vehicle options, picking and choosing what features they'd like in their next vehicle. Once a vehicle is chosen, No Bull Express brings everything the user needs into one place.
This online tool helps customers navigate through the entire purchase process, ensuring no areas or steps are missed. Whether shoppers are looking to purchase a new 2020 Hyundai Tucson or start a lease on a 2020 Hyundai Palisade, No Bull Express on the San Tan Hyundai website makes it fast and simple.
San Tan Hyundai is currently home to over 300 new Hyundai sedans and SUVs, giving shoppers around Gilbert many options to choose from. Anyone can view the dealership's entire catalog on the San Tan Hyundai website, https://www.santanhyundai.com/.
For more information on the No Bull Express process, interested customers are encouraged to contact a member of the San Tan Hyundai sales team by phone at 888-504-3099. The dealership's sales team can be reached anytime during business hours, which are between 8 a.m. and 9 p.m. Monday through Friday, from 8 a.m. to 8 p.m. on Saturdays, and from 10 a.m. to 6 p.m. on Sundays.