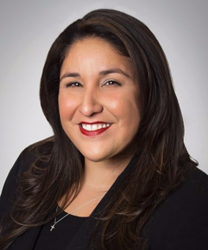 "I made the decision to join the Sanders Roberts team because it is a dynamic law firm with talented and diverse lawyers who perform high-quality work. The impressive growth at Sanders Roberts is a testament to its victories for clients." - Christine Diaz-Herrera
LOS ANGELES (PRWEB) April 13, 2021
Sanders Roberts LLP is pleased to announce that Christine Diaz-Herrera has joined the firm. Ms. Diaz-Herrera will head the firm's Investigations and Training practice.
"We are excited to welcome Christine to our team and to have someone with her unique combination of employment litigation, ethics investigation, and training experience. Christine's commitment to excellence in her practice and connection to our broader community will help to carry Sanders Roberts into the future," said Co-Managing Partner Reginald Roberts.
Ms. Diaz-Herrera is an Association of Workplace Investigators Certificate holder (AWI-CH), which is an ANSI accredited certificate. She conducts workplace investigations for both private and public employers.  Her impartial investigation practice often concerns complex allegations against high-level employees and focuses on claims such as discrimination, harassment, and retaliation. 
Ms. Diaz-Herrera also conducts training seminars for employers, including training on harassment prevention, respectful workplaces, and diversity and inclusion.  She is experienced in counseling and representing both public and private sector clients in various aspects of labor and employment law, including discrimination, disability, harassment, retaliation, unfair labor practices, and bargaining, and she handles all stages of the litigation process to trial.
 
"I made the decision to join the Sanders Roberts team because it is a dynamic law firm with talented and diverse lawyers who perform high-quality work. The impressive growth at Sanders Roberts is a testament to its victories for clients," said Ms. Diaz-Herrera
Ms. Diaz-Herrera comes to the firm from Edison International, the parent company of Southern California Edison, one of the nation's largest electric utilities.  She obtained her bachelor's degree from UC Santa Cruz and her Juris Doctorate from the Berkeley School of Law. 
About Sanders Roberts LLP's Investigations and Training Practice:
Sanders Roberts LLP conducts impartial, comprehensive, and efficient workplace investigations for public agencies, private companies, and educational institutions. The firm investigates complaints alleging discrimination based on race, gender, gender identity, sexual orientation, religion, and disability as well as allegations of harassment, retaliation, workplace bullying, and other misconduct. Sanders Roberts' neutral and high-quality investigations provide evidence-based conclusions that can lead to cost-effective resolutions. Sanders Roberts' training programs educate employees and promote compliance with important legal requirements. The firm believes that engaging trainings can help prevent workplace problems before they lead to a situation that requires investigation.
About Sanders Roberts LLP:
Since 2008, Sanders Roberts LLP has provided exceptional legal services customized to its clients and their individual situations. SR believes in efficiently and effectively resolving the issues at hand and crafting solutions that work for its clients and their enterprises. SR has been recognized as a Top 20 Boutique in California by the Daily Journal, it is also a member of the NAMWOLF, and a certified Minority Business Enterprise.
For more information, please contact Sanders Roberts LLP at info@sandersroberts.com