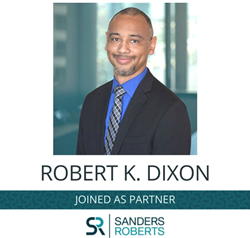 "I am excited and honored to join Sanders Roberts, especially since the firm is the gold standard for civil trial attorneys." - Robert K. Dixon
LOS ANGELES (PRWEB) April 06, 2021
Robert K. Dixon, a first-chair trial and arbitration lawyer has joined Sanders Roberts as a partner in the firm's general liability and business litigation practice groups. Mr. Dixon represents clients from a variety of industries, including automotive, pharmaceutical, construction, and retail, in general liability matters, such as products liability, personal injury, wrongful death, and other complex litigation. He also defends high profile corporate clients in class actions and individual cases in various areas, such as consumer protection, unfair competition, and false and deceptive advertising in state and federal courts throughout California.
"I am excited and honored to join Sanders Roberts, especially since the firm is the gold standard for civil trial attorneys," said Dixon. "I'm looking forward to helping the firm to continue to thrive and prosper for years to come."
Mr. Dixon received his law degree from the University of Southern California Law School and his undergraduate degree from Loyola Marymount University. Before joining Sanders Roberts, Mr. Dixon was named "Top 40 Under 40" by SD Metro Magazine and The National Black Lawyers in 2019 and 2015, respectively. In addition, Mr. Dixon has been named a Rising Star by San Diego Super Lawyers from 2015–2021.
Mr. Dixon is also actively involved in the legal community—in particular, with the American Bar Association and the National Association of Minority and Women-Owned Law Firms (NAMWOLF). As a member of the American Bar Association, he has served as a co-chair of the Section of Litigation Diversity & Inclusion Committee (2018-2019) as well as the Editor of the Diversity & Inclusion Committee's Newsletter (2015-2018).
"Robert will add essential bandwidth to our thriving litigation practice. And with the uptick of product liability actions and consumer-related litigation, he will be an asset for our clients facing these types of issues," said Co-Managing Partner Justin H. Sanders.
About Sanders Roberts
Since 2008, Sanders Roberts LLP has provided exceptional legal services customized to its clients and their individual situations. SR believes in efficiently and effectively resolving the issues at hand and crafting solutions that work for its clients and their enterprises. SR has been recognized as a Top 20 Boutique in California by the Daily Journal, it is also a member of the NAMWOLF, and a certified Minority Business Enterprise.
For more information, please contact Sanders Roberts LLP at info@sandersroberts.com or visit sandersroberts.com.