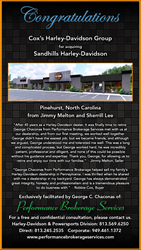 Thank you, George, for becoming a friend and allowing us to retire and enjoy my time with my family.
Irvine, California (PRWEB) March 16, 2017
Sandhills Cycle Center, Inc. was formed on April 20, 1972 by Jimmy Melton, Sherril Lee and Charles Auman, Jr. In 1988, Charles left the business, leaving Jimmy as the President and Sherrill as the Secretary. A native to Moore County, Jimmy graduated from Fayette State University and Mendenhall School of Auctioneering, then attended the Harley-Davidson University in Milwaukee and was inducted into the Harley-Davidson Dealers Hall of Fame in 2003. "After 45 years as a Harley-Davidson dealer, it was finally time to retire," commented Jimmy. Jimmy and Sherrill contacted George C. Chaconas from Performance Brokerage Services, a national Harley-Davidson, powersports and new car dealership broker. First, George facilitated the sale of the Yamaha franchise to Jerry and Keith Covington at Sport Cycles of Rockingham, North Carolina. Simultaneously, George was working with the perfect buyer for Sandhills Harley-Davidson, Mr. Robbie Cox. Following the sale of the dealership, Jimmy Melton shared, "George didn't have the easiest job. This was a long and complicated process, but George worked hard and was incredibly patient. None of this could be possible without his guidance and expertise. Thank you, George, for becoming a friend and allowing us to retire and enjoy my time with my family."
In 1961, the Cox family established the first Cox's Harley-Davidson in Asheboro, North Carolina. Since then and for over 50 years, three generations of Cox family members have owned and operated the dealerships. In 2004, the family opened the Harley-Davidson dealership in Rock Hill, South Carolina and in 2006, they further expanded their footprint when they opened Cox's Northern Tier Harley-Davidson in Mansfield, Pennsylvania. In 2015, the Cox family also hired George Chaconas to sell their Cox's Northern Tier dealership in order to focus their efforts on their Carolina portfolio. After his purchase of Sandhills Harley-Davidson, Robbie Cox commented, "I was thrilled when George shared with me a dealership in my backyard. George has always demonstrated great integrity, honesty and professionalism and is a tremendous pleasure to do business with."
Sandhills Harley-Davidson will operate under its new name Cox's Double Eagle Harley-Davidson and will remain at its current location at 7540 NC Highway 15 501 South in Pinehurst, North Carolina 28370. The dealership gets its name from the abundance of golf courses in and around Lee County. Robbie Cox has huge remodeling plans for a new dealership to open its doors in Spring 2017.
George C. Chaconas, the exclusive agent for this transaction and the head of the National Harley-Davidson and Powersports Division for Performance Brokerage Services commented, "Nothing brings me greater satisfaction as a Harley-Davidson dealership broker than accomplishing my client's goals and knowing that Jimmy and Sherrill can now enjoy their retirement. We successfully found the perfect buyer for their dealership and are confident Robbie Cox will carry on the legacy built over so many years. A true win-win."
About Performance Brokerage Services
Performance Brokerage Services, an auto dealership broker, specializes in professional intermediary services to buyers and sellers of automotive, Harley-Davidson and Powersports dealerships.
The company offers a different approach to the automotive, Harley-Davidson and Powersports industries by providing complimentary dealership assessments, no upfront fees, no reimbursement of costs and is paid a success fee only. Performance Brokerage Services gets paid only after the client gets paid.
With over 25 years of experience, the company utilizes an extensive network of industry related accountants, attorneys, hundreds of registered buyers and enjoys longstanding relationships with most of the auto manufacturers and the Harley-Davidson Motor Company. The intermediaries at Performance Brokerage Services have been involved in well over 600 transactions. Pledging loyal and unwavering representation, confidentiality is vigilantly protected during the selling process and after the transaction closes.
With corporate offices in Irvine, California, four regional offices in Utah, Florida, Texas and New Jersey, and a dedicated Harley-Davidson and Powersports Division, Performance Brokerage Services provides its clients national exposure with local representation. For more information about the services offered by Performance Brokerage Services, visit https://performancebrokerageservices.com.