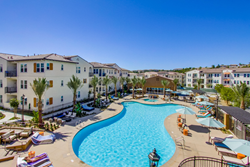 "Residents at Enclave Otay Ranch enjoy a comfortable, casual and dynamic lifestyle with easy accessibility to all Chula Vista and San Diego have to offer."
CHULA VISTA, Calif. (PRWEB) October 24, 2017
The high demand for luxury apartments at Enclave Otay Ranch in Chula Vista is another sign of the community's increasing appeal. Chula Vista was San Diego County's fastest growing community last decade.The city continues to be focused on growth with special attention to the quality of the community experience.
In keeping with this spirit, Enclave Otay Ranch features a wide array of luxury amenities that were designed to develop a sense of community. Residents enjoy a resort-style pool, outdoor dining areas and fire pits, 24-hour fitness center with yoga workshops, game room with billiards, shuffleboard and arcade games.
"Enclave Otay Ranch offers a comfortable, casual and satisfying lifestyle. It fits perfectly with the direction Chula Vista is developing," said Sara Delia, CEO of The REMM Group, "Our active residents have both the desire and affluence to support the growing social hotspots, unique stores, restaurants and great outdoor spaces."
Chula Vista, which means beautiful view, exceeds both California and San Diego in the $75,000 -$250,000 income demographic best matched to luxury apartment living. The premium apartments at Enclave Otay Ranch include spacious floor plans, hardwood-style floors, stainless steel kitchen appliances, and full-sized in-home washers and dryers.
"We continue to exceed our leasing projections every month due to the high demand to live in a community accessible to everything," said Ross Greenwell, Regional Manager of Enclave Otay Ranch.
"Residents love the lifestyle, modern conveniences and a welcoming feel that goes beyond the beautiful facility," Greenwell added, "We've thought of every detail to ensure they feel at home - from our generous pet policy to complimentary bike rentals. Enclave Otay Ranch is perfect for individuals and families who want to to live in a community they can call home in this beautiful area, just a few minutes from downtown San Diego."
Chula Vista is known for its diverse recreational opportunities and temperate weather. Ongoing growth includes the city's plans to revitalize the 500 acres of bay front that was previously used for industrial purposes. The new bay front will welcome developers for housing, hotels, retail and recreation.
Enclave Otay Ranch is owned and developed by Baldwin & Sons. It is the first of three apartment communities under development by Baldwin & Sons in Otay Ranch. The leasing office is located at 1625 Santa Venetia St., Chula Vista.
The REMM Group is a IREM Accredited Real Estate Management Organization (AMO). The locally owned, third-party real estate management company provides property management for industrial, office, retail, and multifamily properties. The REMM Group's corporate office is located at 15991 Red Hill Ave. Ste. 200 Tustin, CA 92780.
For additional information on the news that is subject of this release, contact Sara D'Elia at (714) 974-1010 x 213, sdelia(at)remmgroup(dot)com, or visit http://www.remmgroup.com.