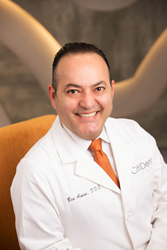 San Francisco, CA (PRWEB) May 01, 2017
According to the U.S. Centers for Disease Control, 45,000 people are diagnosed with oral cancer every year, and about 300,000 Americans were living with oral cancer in 2013, the most recent year of available statistics. Oral and pharyngeal cancers can affect both men and women and are more common in those who are infected with HPV, as well as those who smoke or drink heavily. The 5-year survival rate of these cancers is about fifty-nine percent, but when oral cancer lesions are identified early, the 5-year survival rate increases to eighty-three percent. Oral cancer screening and early detection can save lives. Unfortunately, cancerous and precancerous lesions can be difficult to spot with the unaided eye.
San Francisco dental office, CitiDent, is now offering ViziLite for advanced oral lesion screening. ViziLite can increase the chances of spotting malignant and precancerous lesions at an earlier stage compared to visual exams with the naked eye. The latest system, ViziLite Pro, uses light-based fluorescence technology to quickly and effectively identify epithelial dysplasia or abnormal growths. Fluorescent technology has been used for more than a decade to better identify potential malignant abnormalities in the oral cavity.
"The ViziLite Pro has been designed to use the optimal wavelengths for the earliest identification of potential cancerous and precancerous lesions," says San Francisco dentist, Dr. Ben Amini. "We can quickly and easily activate the handheld device to illuminate the oral cavity. The ViziLite exam adds just one minute to a typical dental exam appointment, but its benefits can last a lifetime. "
The ViziLite's special spectrum LEDs will improve Dr. Amini's ability to visualize the oral cavity.
"As the light generates bio-fluorescence, the healthy tissue will appear bright while any abnormal lesions will appear dark, creating a noticeable, easy-to-spot contrast," says Dr. Ben Amini of CitiDent, who leads a multidisciplinary dental practice in San Francisco's Financial District.
About CitiDent
Dr. Amini received his dental degree from the University of California, San Francisco, School of Dentistry in 1996. He has completed extensive postgraduate training in cosmetic and implant dentistry, and is dedicated to incorporating new dental technology into his practice. Today, San Francisco dentist Dr. Amini is a member of numerous local and international dental organizations, and a Subject Expert at the Dental Board of California, as well as an Assistant Clinical Professor at the University of California, UCSF School of Dentistry.