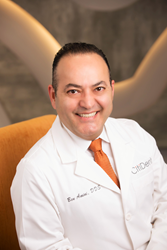 San Francisco, CA (PRWEB) March 15, 2017
Treating tooth decay early is always preferred over treating it later. Treatment may be simple and inexpensive early on, but it can become more complex and costly as the tooth decay worsens and the tooth deteriorates further. Furthermore, complications may arise by then, resulting in the need for additional treatments such as root canal therapy or removing the tooth. Unfortunately, the earliest cavities are not always caught in standard dental X-rays. Some more developed cavities may also be less obvious in X-rays, potentially leading to delayed diagnosis and treatment. A new technology, known as Diagnodent, is available from a San Francisco dentist, Dr. Ben Amini, at CitiDent. With this new instrument, patients gain fast, painless and accurate detection of cavities, so that they can receive treatment efficiently and avoid problems later.
Diagnodent is a pen-shaped instrument that is able to spot cavities of all sizes, even in hard-to-reach areas of teeth. Cavities in common areas, such as fissures, can be spotted early in four out of five cases, allowing for prompt, decisive treatment. Cavity detection with Diagnodent is fast and non-invasive, making cavity detection more comfortable for patients to tolerate. In addition to spotting cavities, Diagnodent can detect calculus and tartar below the gumline. The tips used on the instrument can be sterilized on site, which supports the safety of patients.
About Dr. Ben Amini, Dentist San Francisco
Dr. Amini graduated from the University of California, San Francisco, School of Dentistry in 1996. Today, Dr. Amini is an active and reputable member of several local, statewide, national, and international dental organizations. An assistant clinical professor at UCSF, his dental alma mater, Dr. Amini continues to complete postgraduate training to offer his patients the very latest dental care. At CitiDent, Dr. Amini and his associate dentists and specialists personally collaborate to give patients a complete range of restorative, cosmetic, implant and Invisalign treatment along with specialty care in Orthodontics and periodontics.