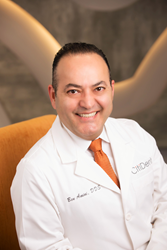 San Francisco, CA (PRWEB) June 28, 2017
According to the CDC, marijuana is the most widely used illicit drug with nearly 20 million Americans over the age of 12 using it. While many states including California have legalized it for either medical or recreational purposes, it is not completely without risk. In fact, a recent study at Columbia University has found that recreational use of cannabis is associated with an increased risk of gum disease. Previous studies have linked tobacco use to periodontal disease, but this study was the first to link cannabis, which includes marijuana, hashish and hash oil, to gum disease. Study authors evaluated data from nearly 2,000 adults, 27 percent of whom used cannabis at least once in the previous year. Researchers found that frequent cannabis users had more indications of periodontal disease than those who used cannabis less frequently. San Francisco dentist, Dr. Ben Amini, dentist in San Francisco, comments on this study linking frequent marijuana use to the prevalence of periodontal disease.
This study, which was published in the Journal of Periodontology and reviewed on MedicalXpress.com, could have implications not just for recreational marijuana users but also those who use cannabis for medicinal purposes.
"Gum disease is an inflammatory condition that occurs as a result of bacterial infections. Over time, it can lead to gum recession and tooth and bone loss, and it has been linked to pregnancy complications, diabetes, dementia and heart disease. Although more research is needed to better understand the link between cannabis and periodontal disease, this research does provide valuable information for dentists and cannabis users", says Dr. Ben Amini of CitiDent.
Dr. Temlock, periodontist at CitiDent, may recommend more frequent checkups and cleanings for recreational users as well as specific at-home regimens designed to reduce the risk of periodontal disease. CitiDent offers comprehensive dental care that includes preventive dentistry as well as dental restorations, whitening treatments, porcelain crowns, treatments for TMJ disorders, smile makeovers and orthodontic treatments.
About CitiDent and Dr. Amini
Dr. Amini is a graduate of UCSF's School of Dentistry and is currently an assistant clinical professor at the University of California, San Francisco. He is an Subject Expert at the California Dental Board, and has completed extensive postgraduate training and is a respected member of numerous local and international dental organizations. He is the founder of CitiDent, a multi specialty group of dentists and specialists who work together to offer the latest treatment options to patients in the San Francisco Bay Area.
Source: https://medicalxpress.com/news/2017-05-recreational-cannabis-gum-disease.html