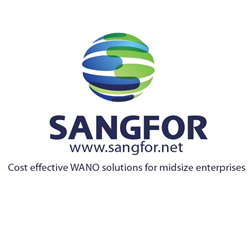 The backup is more than twice as fast as before; I never saw my backup finished in such a short time.
Santa Clara, CA (PRWEB) October 09, 2014
International success story Sangfor is entering the United States market, where it is poised to dramatically change the corporate data industry with its WAN optimization tools and bandwidth management products. Sangfor is leveraging its success in providing WAN optimization tools and Internet access management solutions in the European and Asian markets by working with midsize financial institutions in the United States.
One of Sangfor's first major projects in the United States was deploying the Sangfor WAN optimization solution to Boston Private Bank & Trust Company, which has a Boston headquarters, a West Coast data center in Santa Clara, Calif., and numerous bank branches throughout the United States. Sangfor was able to increase network speed and decrease latency while also saving the company money on its overall IT costs through a series of network accelerator and bandwidth management improvements.
How Sangfor differentiates itself
Boston Private Bank & Trust Company is just one example of Sangfor's success in deploying WAN optimization products and solutions in the United States. However, Sangfor has been successful in Europe and Asia for well over a decade. Founded in 2000, the company has built a worldwide operational network that includes more than 21,000 customers, 51 locations and 680 global channel partners. Sangfor works with 33 distribution networks around the world. Some of the major corporations already working with Sangfor are Canon, Shell, Toyota, Panasonic, Caterpillar and JVC.
Sangfor has been able to consistently provide better service and results while also charging less than any of its major competitors. On average, Sangfor customers have reduced redundant data by 90 percent and bandwidth utilization by 80 percent through the use of application acceleration and other techniques. In addition, customers have seen their data transfer speeds increase more than tenfold in many cases. This has increased both network efficiency and employee utilization, a streamlined process that makes the network more valuable to everyone involved. Anatoly Chikanov, vice president and network operations manager of Boston Private Bank & Trust Company, said it best when he stated, "Our end users are very happy with the improved performance of our applications, and the Sangfor WAN optimization appliance is well worth the purchase."
Sangfor's success in disaster recovery
Boston Private Bank & Trust Company is not the only example of Sangfor's early success in the U.S. market. Colorado-based private equity firm Central Bancorp used Sangfor's WAN optimization solutions to prevent a potentially devastating loss of data in early 2014. Central Bancorp, which offers numerous financial services to both large and small clients, was utilizing a 30 Mbps bandwidth connection to back up all of its data before employing Sangfor's services. Without the efficiency-increasing applications and network devices offered by Sangfor, this connection was woefully inadequate for the task of backing up data quickly and effectively. According to Owen Stockton, vice president of IT for Central Bancorp, "The backup is more than twice as fast as before; I never saw my backup finished in such a short time."
These improvements could quite literally be the difference between surviving a potentially devastating loss of data and being bankrupted by it. With Sangfor's first forays into the U.S. market already proving to be resounding successes, it seems likely that Sangfor will soon be able to make significant changes in WAN optimization technologies for midsize enterprises throughout the country. Sangfor offers company-saving WAN optimization solutions and bandwidth management tools with great performance.
About Sangfor Technologies
Founded in 2000, Sangfor is a global provider of networking devices and services. Sangfor offers the latest networking technologies for midsize enterprises at an affordable cost. With 51 offices around the world —in the United States, the United Kingdom, Singapore, Malaysia, Thailand and China — Sangfor has proudly helped more than 21,000 customers to increase their network efficiency and productivity while reducing IT costs. Leveraging its current success, Sangfor Technologies USA aims to make significant improvements in WAN optimization technologies for midsize enterprises. For more information, please visit http://www.sangfor.net.