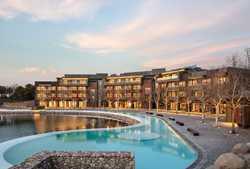 SUZHOU, China (PRWEB) October 15, 2019
"New Paradigm, New Era of Wellbeing" is the theme of this year's AT ONE International Festival at SANGHA Retreat by OCTAVE Institute in Suzhou, China. The festival will focus on redefining wellbeing, wellness, healthcare and integrative medicine.
The annual event, open to the public, brings together thought leaders and holistic practitioners from around the world to address scientific discoveries, the reemergence of ancient practices, and humanity's challenges of the 21st century. The festival pushes boundaries and celebrates life towards a common destiny for all humanity.
Founded by Frederick Chavalit Tsao, author of Quantum Leadership: New Consciousness in Business and Founder/Chairman of SANGHA Retreat by OCTAVE Institute, the three-day festival is a showcase of discovery, learning, fun and human connection. This year, a one-day conference will bring thought leaders together to challenge the status quo, inspire a new way of thinking, and share a vision of the essential oneness of the world. "A new paradigm is needed for new world challenges, and in order to flourish, humans must learn to become the CEO of their own lives," says Tsao.
The festival begins with a forum for speakers and panelists, followed by the AT ONE International Conference where participants will discuss:

Exploring the paradigm of life sciences from the West and the East to define what life is and what health and wellness mean.
Reimagining the future of what healthcare may look like as society lives longer, human life span increases and technology changes the entire landscape.
Taking Responsibility: Who should be responsible for what, and how do we get there?
The three-day festival is open to the public Nov 15-17, offering 150 experiential learning activities designed to help formulate healthy living habits, connect to the soul, and lead towards mental and physical wellbeing. International, regional and local practitioners will join the festival to offer interactive workshops, master classes and lectures at SANGHA Retreat and AT ONE Healing Spa.
Last year's festival was attended by 3,000 guests, with 400 participants at the International Conference. To register for this year's event, visit https://www.atonefestival.com/conference-en/
SANGHA Retreat by OCTAVE Institute
Located west of Shanghai on the outskirts of Suzhou, China, SANGHA Retreat combines Eastern philosophies backed by Western science to help people awaken to a life of greater purpose and personal wellbeing. With a focus on raising consciousness, it has been created for the need of our time by visionary Fred Tsao, fourth-generation steward of a family business that started in The Shanghai Bund before 1906.
The 47-acre retreat, designed by Tsao & McKown, includes AT ONE guest suites; AT ONE Clinic, offering comprehensive wellness assessments and wellbeing programs; AT ONE Healing Spa with extensive spa treatment menu and hydrotherapy circuit; THOUGHT FOR FOOD restaurant; the Meditation Dome; and a seasonal schedule of fitness activities and mindfulness classes designed around the body's circadian rhythm.
For more information and reservations, visit sangharetreat.com. Reservations can also be made through Hidden Doorways Travel or a preferred travel agent.
OCTAVE Institute
More than a school of life, OCTAVE Institute is a platform to help people find clarity, harmony and a new level of consciousness and freedom. It is comprised of SANGHA Retreat, the VILLAGE, and AITIA in Suzhou; and THE LIVING ROOM, an urban support center in Shanghai. The VILLAGE is a live-work-learn community for personal and communal learning, executive retreats, conferences, summits and festivals including the AT ONE International Festival, an annual, international festival that brings together thought leaders and holistic practitioners to address current issues. AITIA powers the communal programs at OCTAVE Institute. Together they create the foundation for growth towards a purposeful life, mindfully lived. http://www.octaveinstitute.com/
Media Contacts:
Sheila Donnelly & Associates
Babs Harrison | babs@sheiladonnelly.com
Cassie Kim | cassie@sheiladonnelly.com