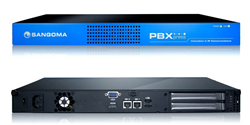 Sangoma VoIP hardware is know for it's performance and reliability so if you're thinking about designing your VoIP system with Sangoma, this is a great time to do it with instant savings of up to $150 per device. - Tom Costelloe, VoIP Supply Manager
Buffalo, NY (PRWEB) May 07, 2014
VoIP Supply, North America's leading VoIP solutions provider, is announcing today the Sangoma Cards and Appliances Instant Rebate offer.
From now until June 30, 2014, VoIP Supply customers can enjoy hassle-free savings on select:

Sangoma A100 Series Digital Voice Cards: Sangoma A100 cards are available with up to 16 ports, 480 simultaneous calls over T1/E1/J1, Hardware Echo Cancellation, and PCI or PCI Express options.
Sangoma Vega Gateways: The popular Sangoma Vega is available in three VoIP gateway lines; the Vega 50, 400, and 5000 for a range of business sizes and calling needs.
Sangoma Vega Enterprise Session Border Controller (SBC): The Vega Enterprise SBC models offer protection from theft and calls from untrusted or unsecure networks.
Sangoma PBXcelerate: This customizable PBX-ready appliance is available with no software or it can be delivered pre-loaded with the user's choice of PBX software from Asterisk®, FreePBX, or Elastix.
The promotional savings on these Sangoma digital cards, VoIP gateways, and PBX-ready appliance are instant upon checkout at VoIPSupply.com; there are no forms to fill out and customers will not have to wait for a check in the mail.
"Sangoma VoIP hardware is know for its performance and reliability so if you're thinking about designing your VoIP system with Sangoma, this is a great time to do it with instant savings of up to $150 per device," said Tom Costelloe, VoIP Supply Marketing Manager.
For more information about Sangoma Digital Cards, VoIP Gateways, and PBX Appliances talk to a VoIP Engineer today by calling 800-398-8647 or visit http://www.voipsupply.com/manufacturer/sangoma/instant-rebates.
About VoIP Supply
We are a place of uncovering, cultivating and developing leaders. A world class place to work with big goals, a clear vision, defined purpose and a dedicated team of passionate business professionals. We love what we do and do it better than any of our competition.
Since 2002, VoIP Supply has been the leading supplier of VoIP equipment and complete VoIP solutions in North America. We are known in the industry as responsive and knowledgeable VoIP product experts.
With everything you need for VoIP, VoIP Supply has grown rapidly throughout the years. VoIP Supply is a three-time Inc. 500/5000 honoree, listed by Business First as one of WNY's Most Admired Companies, as well as one of Western New York's Best Places to Work for many consecutive years, including 2012. VoIP Supply is also the first Certified B Corporation in Western New York.