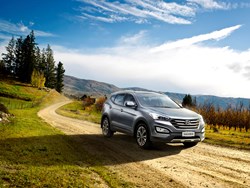 It's found a place with business and fleets as well as private buyers, an indication it is meeting the needs of anybody in the market for a medium 4WD vehicle
(PRWEB) December 13, 2013
The Santa Fe, which was launched in March this year, provides a great all round package according to Managing Editor John Oxley.
"The new Santa Fe is a deeply impressive machine," said Mr. Oxley. "It has all the ingredients to continue selling well," he said. "It's well equipped, well built and undeniably handsome."
Like all the winners of the various different classes of business vehicles, which New Zealand Company Vehicle honours, the Santa Fe offered more new technology to provide better safety systems, reductions in fuel consumption and improved emission levels, as well as a better driving environment, said Mr Oxley.
The magazine's did not only consider the Santa Fe's on road performance but also its running costs and usefulness for the tasks it is asked to do, he said.
"Santa Fe has certainly been successful for us," said Andy Sinclair, the General Manager of Hyundai New Zealand. "It's found a place with business and fleets as well as private buyers, an indication it is meeting the needs of anybody in the market for a medium 4WD vehicle."