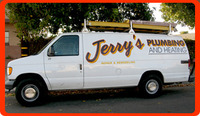 Sometimes a problem is so bad the old sewer line must be replaced. We try to repair only the broken area but in the worst situations the whole pipe must be replaced
Santa Maria, CA (PRWEB) June 16, 2015
Santa Maria plumbers at Jerry's Plumbing and Heating have been serving Santa Barbara County and San Luis Obispo County for over 15 years. Now they are offering $50 off hydro-jetting service. "When the drain backs up people get frustrated. When more than one drain backs up it becomes an emergency. Usually when more than 1 drain is backed up it means there is a problem with the main sewer line," says Kristen of Jerry's Plumbing and Heating in Santa Maria.
Santa Maria hydro-jetting is a method of sewer line cleaning that uses a high pressure water jet to literally cut through debris that exist in the sewer line which includes tree roots and grease balls. "When a snake is used to clear a sewer line the results may only be temporary," says Kristen. "Using a hydro-jetting machine actually cuts away anything blocking the pipe. It doesn't just make a temporary path like a snake might. When it comes to grease it's the definitely the best remedy. Think about putting your finger into mud. The mud is displaced by the finger but when it is removed the mud goes back. Grease is the same way."
In rare situations hydro-jetting cannot be used because the sewer line is damaged so much that the hydro-jetting would further destroy the pipe. The condition of the sewer pipe is best determined using a video camera to inspect it. The experienced Santa Maria sewer repair experts at Jerry's Plumbing and Heating can quickly identify problems within the pipe and make the appropriate recommendation for repair. Kristen says, "Sometimes a problem is so bad the old sewer line must be replaced. We try to repair only the broken area but in the worst situations the whole pipe must be replaced."
In addition to hydro-jetting and sewer repair Jerry's can handle type of plumbing, air conditioning or heating problem. They handle repair, replacements and installation. They are currently running a Santa Maria air conditioning special for an A/C Tune-Up for $99. This is for people who are interested in preserving the HVAC system and increasing its life by having manufacturer suggested maintenance performed. "It's going to be a long hot summer. Getting a tune-up now is the smartest thing to do. Air conditioning systems tend to break at the worst time, during heat waves when it is difficult to service everyone at once. We recommend avoiding problems by performing annual maintenance," says Kristen.
To learn more about Jerry's Plumbing and Heating please visit their website. They offer 12 months no interest financing for new HVAC systems and fast reliable plumbing services. They are available 24 hours a day and they provide a no cost estimate before beginning any work. Call (805) 688-6973 now to have an experienced Santa Maria plumber or HVAC technician dispatched fast.
Jerry's Plumbing & Heating
319 N Russell Ave
Santa Maria, CA 93458
(805) 688-6973