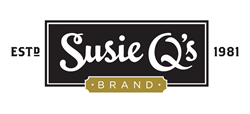 "We're proud to be collaborating with Susie Q's to bring fresh produce from the Santa Maria Valley to new audiences through our partnership with Costco," said Ande Manos, marketing manager at Babe Farms.
Santa Maria, Calif. (PRWEB) May 10, 2017
On Thursday, May 11, Susan Righetti, the original purveyor of Santa Maria style foods, will be honored with the Excellence in Hospitality Tourism Award at the Santa Maria Country Club.
"Susan, the Susie Q's brand, and her family's restaurant, the Far Western Tavern, has become synonymous with local tourism and continue to drive foodies and wine lovers alike to our region," said Jennifer Harrison, director of the Santa Maria Visitor & Convention Bureau.
The following day, Susie Q's will kick off a pop-up barbecue tour that aims to excite Central Coast foodies about regional culinary traditions making their home unique.
"Anyone who has lived in the Santa Maria Valley as long as our family surely has fond memories of summer barbecues filling the air with the smell of red oak," said Righetti, founder of Susie Q's. "We want to keep the tradition alive for generations to come — gathering friends and family for authentic Santa Maria barbecue."
Most events will center around complimentary lunches, including tri-tip sandwiches made with Susie Q's famous Santa Maria style seasoning, grilled over red oak from the Righetti Ranch. Side dishes will also feature Susie Q's products, including salsa and pinquito bean salad — a contemporary use of the legume native to the region.
The first pop-up barbecue will take place on May 12 at Vandenberg Air Force Base for Military Spouse Appreciation Day. The Susie Q's team will serve hundreds of complimentary lunches to military members and their families.
Founded in 1981, Susie Q's Brand saw early success through partnerships with local grocers like Williams Brothers Markets. Over the years, chefs including Bobby Flay have come to the Santa Maria Valley seeking the expertise of Righetti and her family.
When demand for crops like pinquito beans increased beyond what the they could grow on their ranch, the Righetti family began working with local farms to expand to a national audience.
Beginning May 13, Costco in Santa Maria will launch a trial run of Babe Farms' CaliCabbage, a fresh product kit centered around locally grown cabbage and a packet of Susie Q's Santa Maria Seasoning that can be used in grilling. Media are invited to attend a sampling featuring CaliCabbage at Riverbench Vineyard & Winery on June 11.
"Susie Q's has become a household name for anyone from California's Central Coast," said Ande Manos, marketing manager at Babe Farms. "We're proud to be collaborating with them to bring fresh produce from the Santa Maria Valley to new audiences through our partnership with Costco."
With her Santa Maria style products available at small butcher shops and gourmet food stores, as well as large retail chains like Albertsons, Vons, OSH, and Walmart, Righetti continues to be an ambassador for Santa Maria style cuisine. To ensure everyone has a chance to take advantage of the summer promotions, Susie Q's is giving away a case of Santa Maria Seasoning each month from May through August in the "Share This Seasoning" sweepstakes available to all U.S. residents online at ShareSusieQ.com.
For more information about future pop-up barbecues and other summer promotions by Susie Q's, contact info(at)susieqbrand(dot)com.