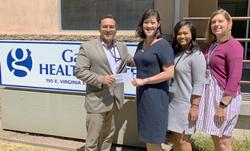 The Health Homes Program allows SCFHP to expand on our holistic approach to member care and offer additional support to our members.
SAN JOSE, Calif. (PRWEB) August 07, 2019
Santa Clara Family Health Plan (SCFHP) is excited to announce the July 1, 2019 launch of the Health Homes Program (HHP), a new state funded program for eligible Medi-Cal members with multiple chronic conditions. The SCFHP HHP helps members coordinate their health care services and links them to community-based organizations that can assist them with gaining access to other necessities such as food and housing.
HHP goes beyond health services and targets the social determinants of health that affect the most vulnerable residents of Santa Clara County. HHP services are provided through care teams, staffed by SCFHP and community-based organizations. Care teams are led by a care coordinator who helps the member navigate the healthcare system and provides care management, care coordination, health education, transitional care, connections to member and family supports, and referrals to community safety net programs.
A key member of the care team is a housing navigator, who can help members apply for housing assistance and connect them to housing opportunities. In the midst of Silicon Valley's affordable housing crisis, housing navigators have the challenging task of finding opportunities where there are few.
"SCFHP recognizes that helping our members achieve good health requires us to address all of their basic needs, such as food, shelter, and emotional well-being," said SCFHP CEO Christine M. Tomcala. "The Health Homes Program allows us to expand on our holistic approach to member care and offer additional support to our members. That said, our success in helping our members gain housing is dependent upon the availability of affordable housing, which Santa Clara County is severely lacking."
SCFHP is providing up to $400,000 in grants to Community Clinics and Community-Based Organizations (CBO) in Santa Clara County who offer HHP services to SCFHP members. Qualifying organizations will each receive $40,000 to assist in building program infrastructure and conducting outreach to prospective HHP members. These grants are in addition to regular funding for each enrolled member.
SCFHP and its partners will conduct outreach to 6,800 potentially eligible high risk members who have multiple chronic conditions, multiple hospital admissions or emergency room visits, and a need for housing assistance. Members can also self-refer or be referred by a physician.
"We're thrilled to launch the Health Homes Program in partnership with Gardner Health Services, North East Medical Services, Peninsula Healthcare Connection New Directions, Kaiser Permanente, and Roots Community Health Center, and to invest in the Community Clinics and CBOs as they expand their capacity to deliver care coordination that addresses the full range of a member's health needs," said Ms. Tomcala.
For more information about SCFHP HHP, visit http://www.scfhp.com/health-homes.
About Santa Clara Family Health Plan
SCFHP is a local, community-based health plan dedicated to improving the health and well-being of the residents of Santa Clara County. Working in partnership with providers and community organizations, we serve our neighbors through our Medi-Cal, Cal MediConnect (Medicare-Medicaid Plan) and Healthy Kids HMO health insurance plans. SCFHP began offering coverage in 1997 and is now proud to provide services to over 245,000 residents of Santa Clara County. Through devotion to outstanding service and care for the community, SCFHP is committed to providing quality, affordable health insurance to the underserved in Santa Clara County's diverse population. For more information, visit http://www.scfhp.com.
###