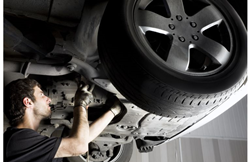 SANTA MARIA, Calif. (PRWEB) April 29, 2021
The Honda of Santa Maria dealership is currently offering various coupons that allow customers to save money on certain services offered at the parts and service department. There are four coupons active right now, one for an alignment special, one for a battery replacement, one for cabin air filter replacement and one for transmission service.
The alignment special coupon allows customers to take $25 off the cost of the service. The coupon states that this service regularly costs $124.95. This coupon expires on May 8, 2021.
The battery replacement coupon lets customers save $30 on a service that is usually $157.90 according to the coupon. This coupon also expires on May 8, 2021.
Customers can use the cabin air filter special coupon to save $15 on the service, which usually costs $113.96, as the coupon states. This coupon needs to be redeemed by May 8, 2021, or it will expire.
Transmission service can be an expensive repair, but the transmission service special coupon helps customers by saving them $20. The coupon states that this service normally costs $180.87. As with all the other coupons, it must be used by May 8, 2021, in order to be valid.
All of these coupons are available through the dealership website. To use these coupons, a customer must either print it out or send the coupon to their phone or email account to be presented digitally for redemption. Additional restrictions apply for all coupons, and more details are available on the dealership website.
Customers interested in using any of these coupons can learn more about them or the dealership generally by calling the location at (805) 922-4600, using the site's live chat feature or by visiting the dealership at 1735 S Bradley Road, Santa Maria, California, 93455.