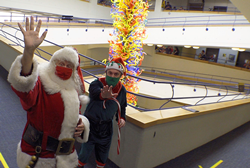 Holiday traditions, fanciful decorations and charismatic characters delight children and families in this annual experience that also features Santa Claus.
INDIANAPOLIS (PRWEB) November 28, 2020
'Twas the day after Thanksgiving when all through the land, racecar drivers and elves scrambled to be with the big man. Dressed in warm red with a white furry collar, Santa and Jolly Days characters could all be heard hollerin', "On reindeer, on elves, on PattyCakes, on Jingles. It's time to celebrate the holidays with masks and Kris Kringle."
Santa invited two of his favorite chauffeurs to race him around. Tony 'TK' Kanaan, winner of the 2013 Indianapolis 500 and the 2004 IndyCar Series champion and Ed Carpenter, driver and owner of the #20 Ed Carpenter Racing Indy car, drove Indy-style pedal cars down the ramp that wraps around the world's largest Dale Chihuly glass sculpture, Fireworks of Glass. It was all part of a new Holiday Parade complete with elves, Rex the mascot and the museum's Jolly Days characters (Patty Cakes, Andy the Zookeeper, Zazzles the Elf, Mrs. Claus, Gucci the Fashion Elf and Ebeneezer Scrooge).
Families are invited to pose for photos in front of the sleigh in Jolly Days Winter Wonderland. The Jolly Old Elf will sit in it at a safe distance, providing a picture perfect backdrop for Instagram, Twitter and Facebook.
Santa Claus will greet children at the world's largest children's museum through December 24, 2020. While he'd love to visit in person with good little girls and boys, Santa understands that some children will not be able to visit in person so he is also going high-tech. He will meet virtually with families one-on-one this season.
His sleigh will be parked for the next few weeks at Jolly Days Winter Wonderland. The exhibit remains open through January 3, 2021.
Make it snow inside a giant snow globe. Sock skate on the ice pond. Explore the ice castle. Watch popular holiday movie clips above the fireplace. Turn on the candles of a menorah. Search for holiday decorations in an exquisite miniature house. The 47-foot-long Yule Slide is adorned with Steif collection animals for another photo opportunity. And enjoy The Santa Clues: Ever wonder "Who exactly is Santa anyway?" The Bureau of Oddities, would like to know too! Join special agents Drake and Fletcher as they delve into the mystique surrounding the guy dressed in red. The secret of his true identity is hidden somewhere in old legends; but be prepared, because the answer might not be what you expect! This live production features socially distanced seating.
Kick off the new year with special activities, music from Grammy-nominated musician Zak Morgan and countdowns to 2021 at noon and 2 p.m., which allows families to experience the excitement of a countdown during kid-friendly times.
Jolly Days Winter Wonderland is Presented by OneAmerica and Supported by Donatos and Indiana Farm Bureau Insurance. Countdown to Noon is Supported by Donatos Pizza and Indiana Farm Bureau Insurance. The Children's Museum of Indianapolis is proud to partner with Riley Children's at Indiana University Health, Old National Bank and Ice Miller LLP.