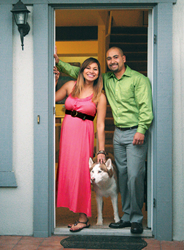 First time homebuyers, move-up buyers and individuals looking to re-enter the Santa Barbara or Ventura County market will find the resources and information they need to navigate the home buying process
Santa Barbara, CA (PRWEB) February 26, 2014
The journey to a desired destination goes much more smoothly with a map and directions. The path to home ownership is no different. In high-priced markets like Santa Barbara County and Ventura County, many local employees want to buy a home in the city where they work, but don't know if they can ever get there. This problem also falls on employers who want to attract and retain a quality workforce in a community where the area's cost of housing is often out of reach of their local workforce. The solution: employers partner with Coastal Housing Partnership, a nonprofit organization dedicated to serving the community by assisting local employees with their housing needs. Since 1987, Coastal Partnership has provided local employees with education and resources to help them buy homes even in the face of the high-cost housing market.
Elizabeth Barat, U.S. HR Manager for Sonos, a company that provides wireless HiFi music systems, experienced the benefits of Coastal Housing Partnership both as an employee relocating back to Santa Barbara and as an Employer Member. "I'm originally from Santa Barbara, but after attending college in San Francisco, I moved to Minnesota for eight years where it was relatively easy to buy a home. When I moved back to Santa Barbara to work for Sonos, I found it difficult to fit into the market. Sonos is an Employer Member of Coastal Housing Partnership so I was able to access their resources including savings from my real estate agents and lender. As an HR professional, it's great to see our Santa Barbara-based Sonos employees use the benefits of Coastal Housing Partnership as well – it's a great perk."
Coastal Housing Partnership helps Employer Members address the challenge of attracting and retaining employees in an area with high housing costs by providing housing benefits to the employees of member companies. This full-service housing benefit includes home buying education seminars, home buying resources and savings as employees navigate their way through the home buying process, mortgage refinance benefits and rental benefits. The annual Coastal Housing Partnership Home Buying Fair, happening on March 1st from 10am to 3pm at Earl Warren Showgrounds, is a one-stop home buying resource shop open to the public to have all home buying questions answered under one roof.
"The key to reaching the destination of home ownership is having the education, tools, and resources to be a competitive buyer." says Corby Gage, Executive Director of Coastal Housing Partnership. "First time homebuyers, move-up buyers and individuals looking to re-enter the Santa Barbara or Ventura County market will find the resources and information they need to navigate the home buying process and be competitive in today's real estate market at our upcoming Home Buying Fair. We are all about getting people on the path to home ownership – including enjoying the journey on the way to that destination."
The 3rd annual Home Buying Fair is a must-attend event for potential homebuyers. Since lack of information can be one of the biggest obstacles to home ownership, this Fair is designed to help attendees easily overcome that hurdle by providing a wealth of information in one day under one roof in order to be informed home buyers. There will be free "how-to" educational sessions on key aspects of the home buying process and local market conditions. Attendees also have access to expert exhibitors including local real estate agents, lenders, credit and financial advisors, and residential builders. There will be takeaway information, prizes & goodie bags.
Since 1987, the Coastal Housing Partnership has helped over 10,000 local employees become homeowners through their education programs and benefits provided through a network of local partners. More than 8,000 tri-county residents have attended Coastal Housing Partnership's home buying seminars.
The Home Buying Fair will take place on Saturday, March 1st, from 10:00 a.m. to 3:00 p.m. at the Earl Warren Showgrounds. Tickets are $5 per adult for the general public. Admission is free for employees of Coastal Housing Partnership Member Employers. Parking is free. For more information about Coastal Housing Partnership and the 2014 Home Buying Fair, contact julia(at)coastalhousing(dot)org, visit http://www.coastalhousing.org or call (805) 969-1025.
About Coastal Housing Partnership:
Coastal Housing Partnership has been helping local families realize their dreams of home ownership for over 25 years. As a partner with local employers, Coastal Housing helps companies and organizations meet the challenge of attracting and retaining employees in a region with some of the highest housing prices in the nation. Membership in Coastal Housing Partnership is open to any employer in Santa Barbara County or Ventura County. http://www.CoastalHousing.org
About Coastal Housing Partnership's Home Buying Fair:
The annual Home Buying Fair in Santa Barbara, California is an educational and hands-on opportunity for potential Santa Barbara County and Ventura County homebuyers to access valuable resources and information on today's real estate market. Free seminars are presented throughout the day on key aspects of the home buying process and local market conditions. Attendees learn about the process of successfully finding a home, qualifying for or refinancing a mortgage, and purchasing and maintaining their home. In addition to resources, prizes and valuable takeaways, the Home Buying Fair has dozens of exhibitors so that attendees can easily meet with and ask questions of potential members of their home buying team. The 3rd Annual Home Buying Fair is presented by Broadview Mortgage, Santa Barbara. Welcome Home Sponsor is Bank of the West. Employer Partners are Cottage Health System and UCSB. http://www.coastalhousing.org/home-buying-fair/.